It is not an extremely common thing to send Halloween quotes, sayings and greetings cards during the day yet. However, that doesn't mean there is no one do it, and if you're one of the people who send them, then you may take inspirations and ideas of what to say here in the following list of happy Halloween greetings in this article.
According to the data from a survey conducted in 2020, about 148 million people in U.S. plan to celebrate Halloween last year. Based on the same data, it is found that the average person spent approximately $92.12. About 53% of respondents said they plan to do home decoration, 46% plan to carve pumpkins, and 18% plan to let their pet wear costume.
Aside from sending funny Halloween greetings to each other, here are some fun Halloween ideas to do with your family:
Read stories related to Halloween – you can do this with your kids or siblings in the days leading up to the celebration. You may find such book in bookstores or local libraries that feature your favorite spooky characters or Halloween themed.
Watch spooky cartoons or movies – Gather with your family members on Halloween night to watch scary cartoons or movies together. Some examples of family friendly horror movies are Casper, Monster House, Charlie Brown, The Great Pumpkin, Lonesome Ghost, or The Legend of Sleepy Hollow.
Go trick-or-treating – Wear your picked costume and walk to visit your surrounding neighborhood with your friends or siblings. Halloween provides a chance to promote the sense of sharing and the enjoyment of giving to others by handing out the candies.
Send a personalized, hand-written Halloween greetings card with your family and friends. Sometimes it is not always easy to share the right words to your loved ones, especially if it's the first time you send Halloween greetings messages. In that case, you may have a look at this handy Halloween-related quotes, sayings, messages, and jokes.
Halloween Messages and Sayings Ideas
Are you looking for funny, heartwarming, or vintage Halloween greetings? Regardless of how you want your greeting cards to be, it is probably the best to keep it short, easy, and simple. Add some of the great words by taking inspiration from these provided messages to send during Halloween.
Carve your pumpkin and get yourself ready for the witch hunting because tonight is going to be the scariest Halloween of your life. Happy Halloween!
Tonight, is your chance to make all your scary dreams come true. Become the monster and scare someone because tonight it's all fun. Happy Halloween!
The dead are waiting. Prepare your pumpkin mask and dress up like a witch for tonight we dine in hell! Happy Halloween!
Don't get yourself tricked by the devil tonight. Wishing you a Halloween full of witches, goblins, and of course, candies! Make some wonderful Halloween memories!
What you do and wherever you go tonight just make sure the dead don't follow you. The night is full of horror but you can earn candies if you know how to. Happy Halloween!
Tonight, I am wishing you an unforgettable Halloween adventure filled with creepy memories and deadly encounters. Happy Halloween!
You will never find a holiday better than Halloween. Wishing you a happy Halloween filled with sweet candies and eerie monsters!
Wishing you a creep-tacular Halloween night full of ghost hunting and candy eating. Put on your costumes and scare the hell out of your neighbors! Happy Halloween!
Funny Halloween Quotes
Blood donors needed. See the Count.
Broom Parking – 5 cents.
Just hanging out with my ghoul friends.
Time for a coffin break.
Have a spooktakular good time!
Come as you aren't.
Ghosts have real spirit.
Ghostly Greetings
Have a frightfully spooky Halloween.
I boo believe in ghosts. I truly boo.
Have a fang-tastic night.
I can't stop falling in love with brew.
Trick or Treat. Smell my feet. Give me something good to eat.
I witch you a Happy Halloween.
Gone haunting. Will return at midnight.
You are bootiful.
Have a bootiful Halloween.
Tonight is a real treat.
Remember the days Halloween meant running as fast as you can for more candy. That's what it's still like at our house.
Forget the ghosts – beware of me!
May your Halloween be scarier than what goes on every night on the news.
It's Hallo-scream!
Remember the gh'oul times!
Carve out some good times!
Free Broom Rides!
These Halloween sayings work spooktacularly well in October.
Happy Halloween Wishes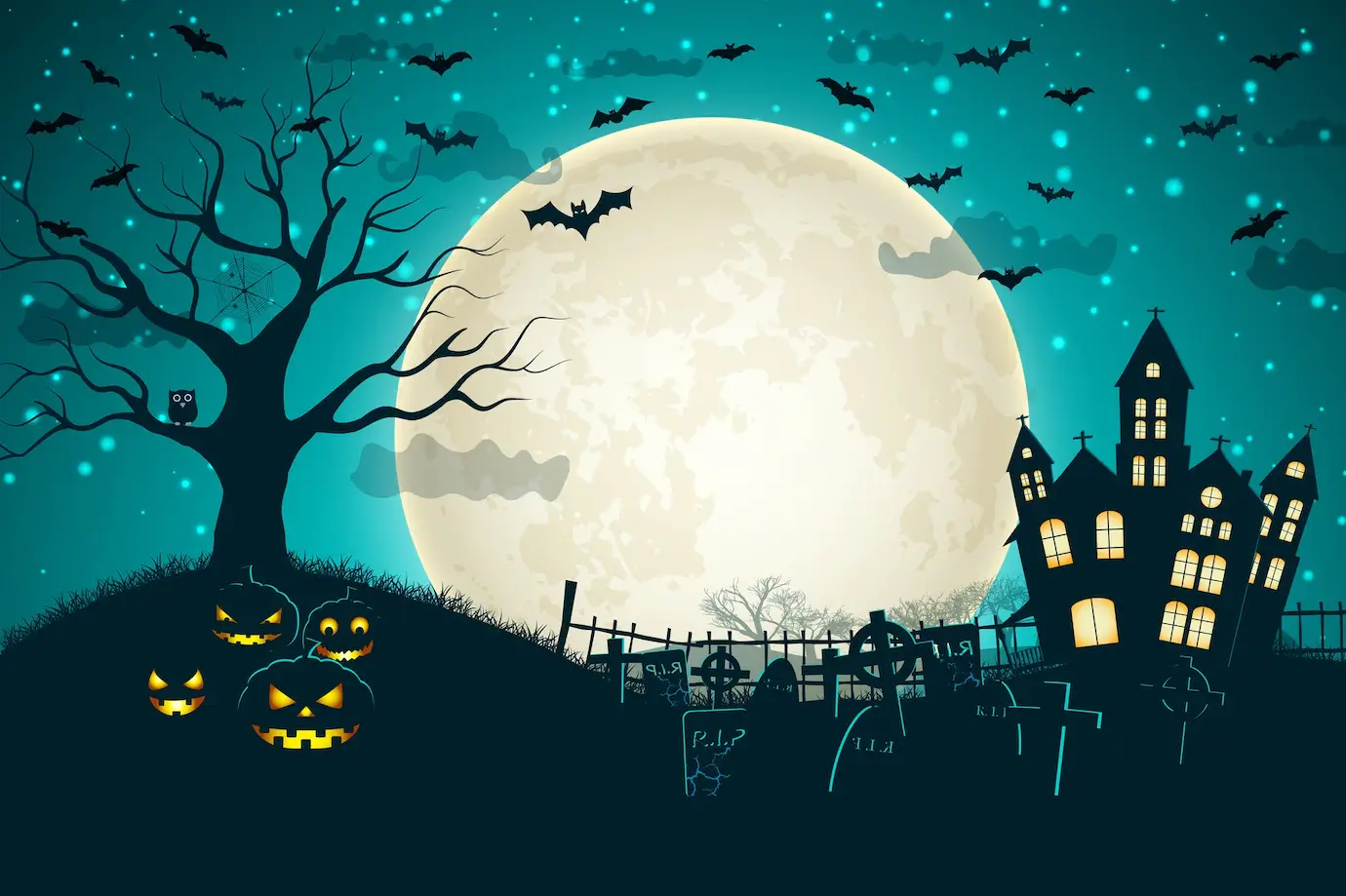 Happy Halloween! May you receive lots of treats and little tricks tonight!
Wishing you a fun Halloween filled with magical surprises! May you get lots of treats that are good to eat!
Be very afraid of the dark because you never know what dwells in it. And don't listen to the whispers in your ear. Wishing you a Halloween full of haunted and spooky encounters!
Collect your pumpkin and get yourself ready to explore the night! Bring candles when you come out of your house. Because the dead hates the light. Happy Halloween 2021!
Happy Halloween! Get dressed up in the best costume and enjoy!
Don't let yourself become a dinner item for the Halloween zombies. Be the hunter tonight, don't be the pray. Wishing you a great, happy Halloween!
I wish you collect a lot of candies tonight. Dress yourself up with creepy costumes. Have fun with your friends but watch out when you pass by the woods. Because its Halloween tonight!
Wishing you a Halloween night full of fun and joy. Make yourself prepared for the celebration as darkness takes over. The dead are awake once again!
Today's the day to eat candies and sweets to your heart's content! Happy Halloween!
Have no fear. Scare people away while screaming at their face. Have spooky fun, dear.
If you think you are safe because you didn't leave your house, just know that when the lights are gone, it's the same darkness that rules everywhere! Happy Halloween!
May your evening be filled with adventures and fights, have a "spook"tacular evening.
I hope you have fun hanging out with the gang and acting silly while dressing up in this Halloween.
Be aware of who you receive candies from. You don't even know who's dead and who's alive tonight! Have a thrilling Halloween night!
Have a Happy and Fun Halloween – Don't be afraid of the dark!
Happy Halloween to someone very special. Hoping your night rocks, just like you!
Happy Halloween! Wishing for you to have a relaxing day as you will not need to put on any costume today. Your face is scary enough!
Trick or treat? Why not both! Happy Halloween to you!
You're the cutest pumpkin in the patch! Have a scary good time. Happy Halloween 2021!
The dead have risen up from their graves. Watch your steps carefully. Don't stop and don't look back. Wishing you a Halloween night full of fright and fear!
May the spirits, witches, and goblins grant all your wishes! Happy Halloween, dear!
Happy Halloween to you! Get spooked and have fun!
Happy Halloween Greetings
Somebody told me you were going to wear a witch costume this Halloween. You could have fooled me because I thought you were already wearing one. Just kidding with ya. Have a Happy Halloween.
When the little monsters come knocking on your door, tell them to scram—forever more! Happy Halloween!!
In my search for the scariest looking costume, I realized nothing is more frightening than the clothes you wear. Okay, you win! Sincere Halloween wishes.
Let the power of Halloween charge up your broomstick as well as your soul. Let the full moon bring all good things into your life.
What I love most about Halloween is, I get to eat a lot of the candy my kids collect. Life is good. Halloween makes it better. Have a sweet one.
I heard you'd like to be Superman for Halloween. No offense, but I think you'd be better as Peter from Family Guy. Have an enjoyable and laid back Halloween.
Halloween is a holiday children of all ages can enjoy. I hope you and your inner child have loads of fun. Best Halloween wishes from someone who never wants to grow up.
On Halloween, I hope you laugh until you cry, and I hope the Halloween treats you receive far outnumber the number of tricks played on you. Enjoy Halloween to the fullest.
Happy Halloween, Happy Halloween, Happy Halloween! Redundant? Yes. Boring? No. Hope yours is delightful, frightful, and sweet in every way. Hope it is a fun experience.
When given the choice of a trick or a treat, I would take the latter. Knowing you has been the best treat of my life, which is why I'm wishing you the best on Halloween day.
There's a black cat in window and a pumpkin on my stoop. On the lawn is a ghost and a witch. This tells me Halloween is very near, so Happy Halloween to you.
If you see a pumpkin in my window, then you know it's Halloween. I hope that it's the kind of day that really makes you scream.
Do you know, some people believe the deceased come back from the dead to visit the living on Halloween? I hope all who come to visit you put a smile on your face this Halloween.
You're never too old to dress up on Halloween, and you're never too old to get naked on a magical Halloween night. Have fun on Halloween, my friend.
Happy Halloween to all you spookily special people out there. Remember to have fun and don't frighten too many people!!
I love the skeleton in your yard. Is it the one you've been hiding in your closet all these years? Chuckles. Have a spooktacular Halloween.
Trick or treat. You are so sweet, and it would be great if we could meet. Halloween greetings and best wishes for the Happiest Halloween ever.
Here's to you having a frightfully pleasant Halloween. Don't look now, but there's no floor beneath you! Oops, sorry! Happy Halloween!
Halloween wishes are being sent your way for a pleasantly frightful day and a delightfully magical night. May the spirit of Halloween be with you.
Best Halloween Sayings
"The dead rise again, bats fly, terror strikes and screams echo, for tonight it's Halloween. Wishing you a Happy Halloween"
"Pumpkin carving and ghost hunting. Trick or treating and witch hunting. This will be a bone-chilling Halloween!"
"Eat lots of candy, scare someone, don't be yourself because it's Halloween!"
"I boo believe that Halloween is the best holiday ever. May you have a fun and eerie Halloween!"
"This Halloween, I'd like to tell you a thing or two, it's okay to be the devil, it's okay to have a tattoo, it's okay to be an angel, it's okay to trick or treat too."
"Stay warm, toasty and scary. Happy Halloween"
"Hope all the candies don't go to WAIST. Happy Halloween!"
"Life with you is just getting boo-tter and better. Happy Halloween!"
"Mummy mummy mummy I got love in my tummy and I feel like haunting you. Happy Halloween!"
"Oh, Halloween's frightful but the candies are delightful, and since there's no place to go, let it boo! Happy Halloween!"
"I have a sugar crush on you. Happy Halloween!"
"I am guilty of eating candy in cold blood. Wishing you a Happy Halloween!"
"I'm a sleeping beauty and you are my prince charming now let's get out of here and go trick-or-treating."
"Roses are red, violets are blue, I'm out of candy, look how scary are you. Happy Halloween"
"Today I can be moody and be a little witch! Wishing you a Happy Halloween!"
"Trick or treat and be scary. May you have a Halloween full of candy."
"Trick me or treat me, I don't care what you do, just promise to give me a candy or two. Happy Halloween"
"Let's have a scary and sweet candy filled Halloween!"
"Let the goosebumps spread and the hairs stand up on Halloween, and let the candy fill your dreams."
"It's Halloween, go totally catty, batty, deadly, ghostly and scary! Happy Halloween"
"When the dark night appears and everything turns into evil, just remember it's Halloween, just chill! Happy Halloween!"
Halloween Quotes and Greetings Inspirations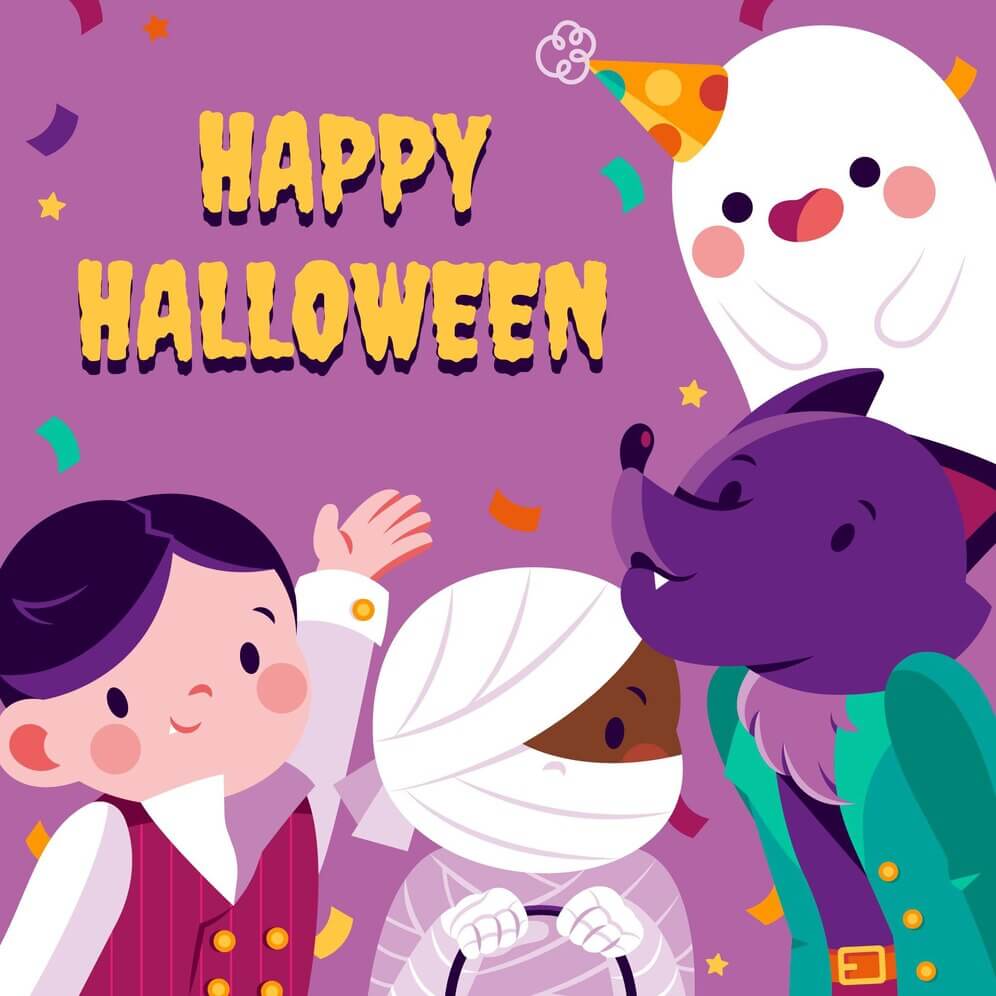 When the Halloween comes, it means the time to trick-and-treating, candy, and costumes have arrived. Children are not the only ones that are allowed to have fun during this special celebration. If you are planning to celebrate the day as well, let others feel the joy of Halloween as well by sending them one of these Halloween greetings sayings and make the celebration even more enjoyable.
"Double, double toil and trouble; Fire burn, and cauldron bubble." – William Shakespeare
"Halloween wraps fear in innocence, as though it were a slightly sour sweet. Let terror, then, be turned into a treat…" – Nicholas Gordon
"Despite my ghoulish reputation, I really have the heart of a small boy. I keep it in a jar on my desk." – Robert Bloch
"By the pricking of my thumbs, something wicked this way comes." — Shakespeare
"We make up horrors to help us cope with the real ones." — Stephen King
"Where there is no imagination, there is no horror." — Sir Arthur Conan Doyle
"Believe nothing you hear, and only one half that you see." — Edgar Allan Poe
"We have had our summer evenings, now for October eves!" — Humbert Wolfe
"When the witches went waltzing." – Linda Williams
"When the witches go riding, and black cats are seen, the moon laughs and whispers 'tis near Halloween." – Unknown
"Shadows of a thousand years rise again unseen. Voices whisper in the trees, Tonight is Halloween!" – Dexter Kozen
"From ghoulies and ghosties and long leggety beasties and things that go bump in the night, Good Lord, deliver us!" – Scottish Saying
"When there's no more room in Hell, the dead will walk the Earth." – George A. Romero
"Tis now the very witching time of night, When churchyards yawn and hell itself breathes out contagion to this world." – William Shakespeare
"Tis the night—the night of the grave's delight, and the warlocks are at their play; Ye think that without the wild winds shout, but no, it is they—it is they." – Cleveland Coxe
"The moon has awoken with the sleep of the sun, the light has been broken; the spell has begun." – Midgard Morningstar
"Hark! Hark to the wind! 'Tis the night, they say, when all souls come back from the far away- the dead, forgotten this many a day!" – Virna Sheard
"Werewolves howl. Phantoms prowl. Halloween's upon us now." – Richelle E. Goodrich
"The witches fly across the sky, The owls go, Who? Who? Who? The black cats yowl And green ghosts howl, Scary Halloween to you!" – Nina Willis Walter
"May Jack-o-lanterns burning bright, Of soft and golden hue, Pierce through the future's veil and show, What fate now holds for you?" – Jerry Smith
"Sticky fingers, tired feet; one last house, trick or treat!" – Rusty Fischer
These fun collections above of Halloween quotes, jokes, messages, and sayings are here to make your Halloween celebration to be even more special. This list contains creative words that you may send and share to others via various platforms. For examples, you may share the Halloween greetings by posting them on your Facebook wall or send them through text messages to your closest persons, colleagues, and even neighbors.