Boss's Day, also widely known as National Boss Day, is commonly celebrated in the US, Canada, and other countries. This annual event, which takes place on October 16th, was first celebrated in 1958 in order to enhance the relationship between employees and employers. Employees usually will say "happy boss day" to their superiors as a formality.
Boss's Day is an opportunity for employees to express their appreciation to their superiors which is typically highly earned. Boss Day is also a moment where most employees will understand the hard work their employers put in on a daily basis.
That is why people working in the business sector celebrate Bosses Day as a chance to acknowledge and thank management for everything that they have done for all their staff. People usually opt to purchase a Happy Boss's Day card with ready-made messages to save time and effort. Also, because some of them think of this event as an obligatory event they cannot be avoided.
Even so, there are many dedicated workers that even buy flowers for their superiors on Boss' Day. UrbanSstems, a flower company, reported that their sales volume on this occasion is 40% higher than on other events. In fact, only around 3.8 million employees are working as secretaries in the US. Also, not all of them have a superior.
Regardless, saying Happy Bosses Day is not only for an actual boss. Yet, it's for everyone who deserves to be recognized for being a total boss. Showing your appreciation to someone you hold in high regard can be in the form of a card. Need a writing guideline to start off? Take a look at the following tips:
Send thanks – The entire purpose of this day is to let your boss know how valuable they are for you and your colleagues. Thus, start your card with thank-you phrases for all things they have done for your department.
Show appreciation – Bosses are often regarded as the bad guy at the workplace. It's a boss appreciation day, so get to know the things about your boss that deserve a lot of recognition, although it can be tough.
Include some jokes – Considering adding some jokes about employees and employers. If you want to include a joke, make sure to choose one that won't hurt your boss' feelings.
Quotes for Your Boss – Boss Day Quotes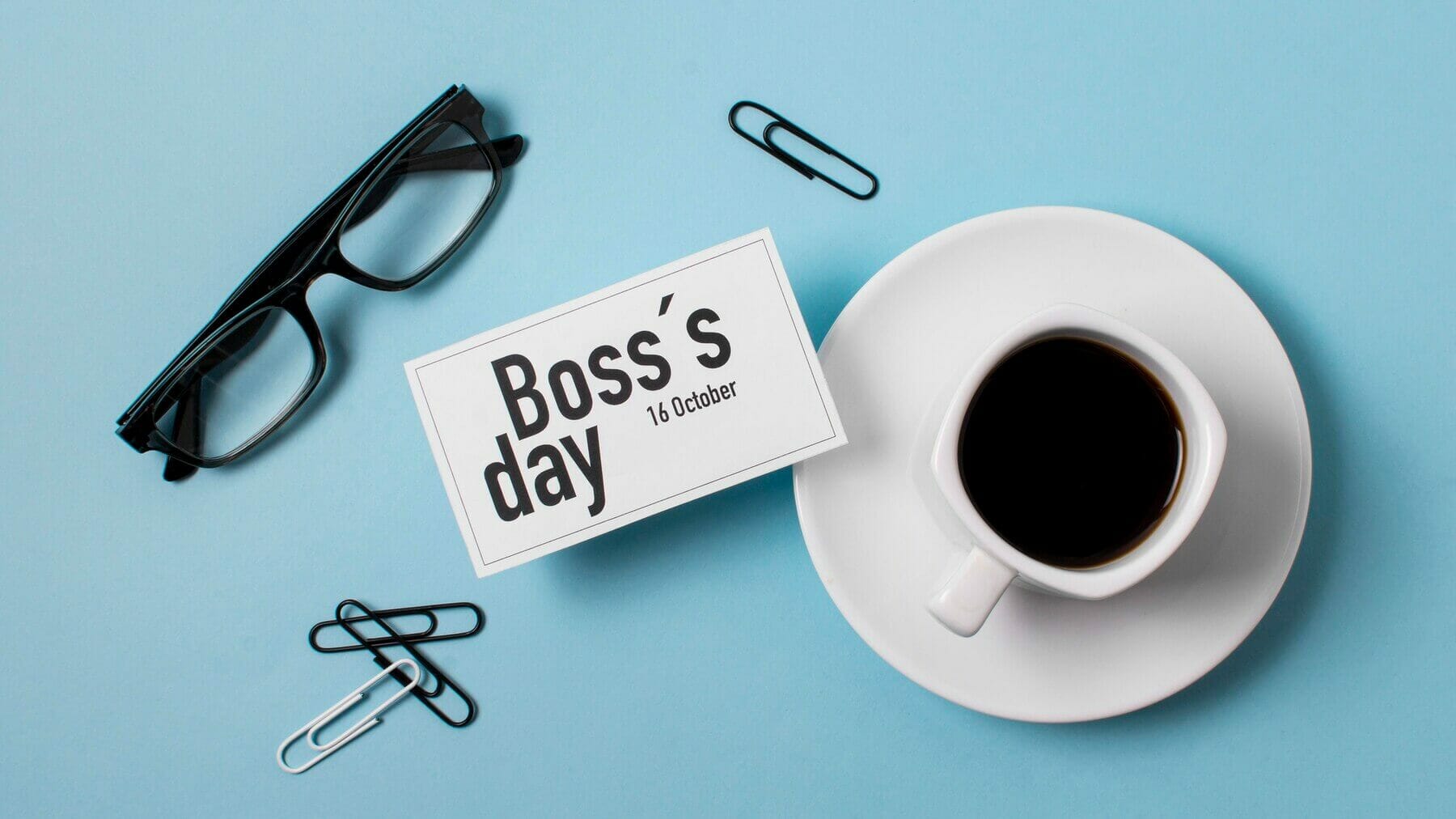 "The greatest gift of leadership is a boss who wants you to be successful." – Jon Taffer
"One measure of leadership is the caliber of people who choose to follow you." – Dennis Peer
"Leaders are visionaries with a poorly developed sense of fear and no concept of the odds against them. They make the impossible happen." – Robert Jarvik
"The Boss doesn't need friends, but the ones I do have, I keep very close." – Sasha Banks
"For all those times you have inspired me. I look up to you. Have a great Boss's Day!" – Unknown
"Before you are a leader, success is all about growing yourself. When you become a leader, success is all about growing others." – Jack Welch
"A good boss is a person who can tolerate my complaints and still manage to say hello to me every day. If it wasn't for bad bosses, I wouldn't know what a good one was like." – Byron Pulsifer
"A good boss makes his men realize they have more ability than they think they have so that they consistently do better work than they thought they could." – Charles Erwin Wilson
"A leader is best when people barely know he exists when his work is done, his aim fulfilled, they will say: we did it ourselves." – Lao Tzu
"A leader is one who knows the way, goes the way, and shows the way." – John C. Maxwell
"I think the biggest part of being a girl boss in the office, at home, or anywhere you go is just knowing your value." – Meghan Markle
I'm living proof that you believe, "leave it better than you found it," because I am so much better for knowing you. Thank you for always championing my growth.
A card or cake could never express how much you mean to us. Thank you for being our champion, our cheerleader, and our fearless leader.
You're more than our boss. You're a teacher, a leader, and a motivator. Thank you for being more than who you have to be, and inspiring us to be all we can be.
"If you ever catch a great boss, it's just such a rare thing, and it's amazing." – James L. Brooks
"Working for you is an honor, working without you is an absolute horror. Working under you is a pleasure, an experience that I will truly treasure. Thank You Boss!" – Unknown
Your boss can also be your mentor who taught you many things. They deserve many thanks from you as they have most certainly had a significant influence on your current situation. Help them to remember a time when their presence was very influential with a collection of Boss Day quotes.
Happy Boss's Day Wishes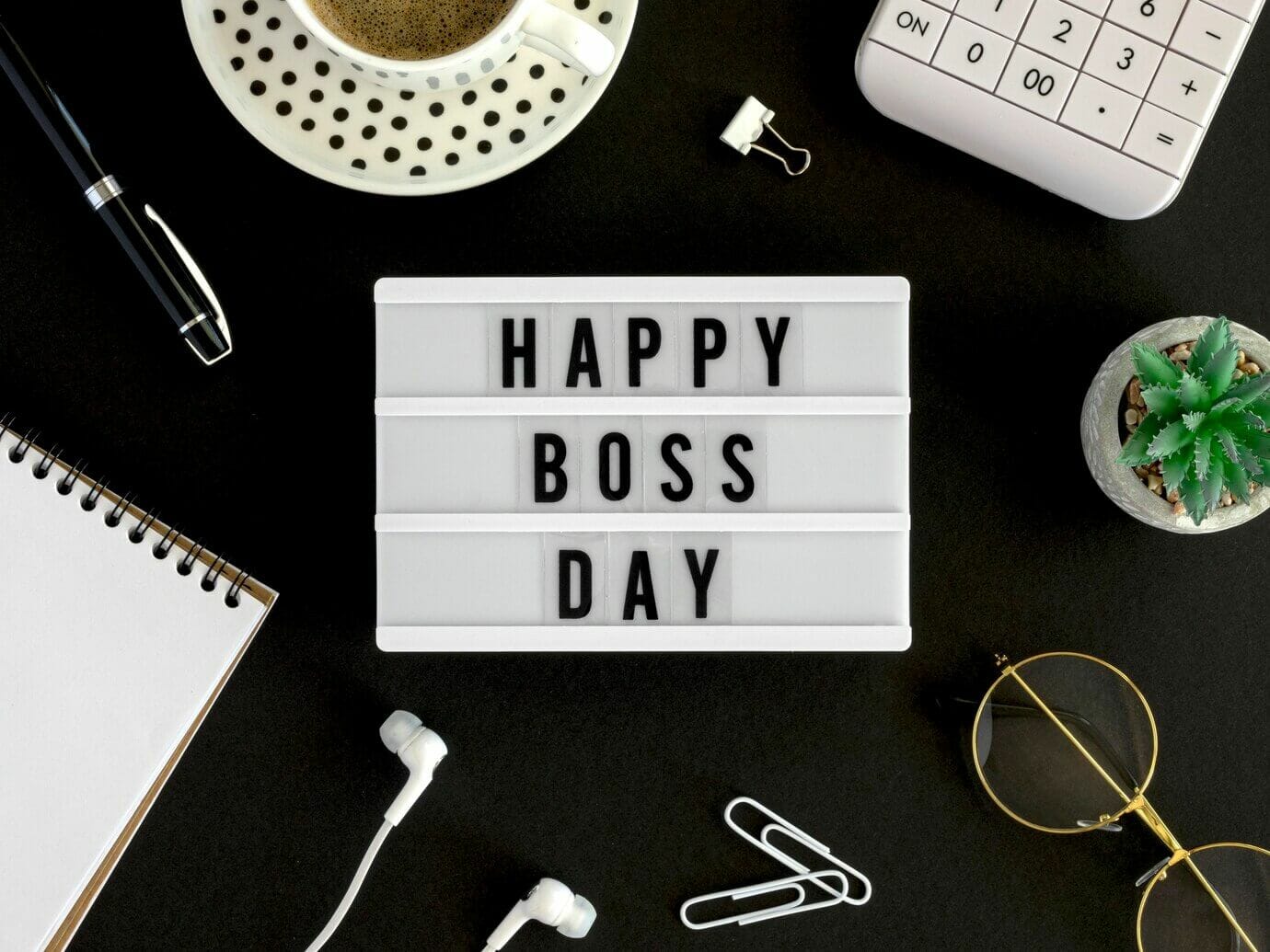 Happy Boss Day! Thank you for being the best team leader ever!
Happy boss day to the most lovable leader who puts his absolute best in everything does. We are really happy to have you as a mentor!
Your words motivate us just as much as your actions. You are the perfect example of a great boss who knows how to inspire his employees. Happy boss day!
You deserve all the praise for your dedication and honesty. You are a role model for all the new faces in the business. Happy boss day!
You were born to be a leader indeed! Happy Boss Day to you!
Happy Boss Day to you! We are lucky to have a considerate manager like you!
Even when you are no longer our boss, the stories of your integrity and dedication to the company will always remain in our hearts. Wishing you a happy boss day!
I am always grateful for your support and inspiration through some of the most critical times in my career. Happy boss day to you. You deserve a big thank you!
Just a day in a year is not enough to thank you for everything that you do for the company. We all are grateful to you for your love and support. Happy boss day!
Dear Boss, the gift shop had run out of all the "World's Best Boss" mugs, but we can confirm that you are indeed the actual best boss! Happy Boss Day!
Thanks for making us realize that business is all about meeting people's needs rather than making profits. You are a great human being. Happy boss day!
Dear Sir, Happy Boss Day to you! Do you know what will make you an amazing manager? Throwing a party tonight and granting us all a paid leave tomorrow!
There is no way one can overlook your contribution to the success of this company. You are too awesome to be celebrated one day in a year!
You always remained calm whenever we made mistakes and helped us get through the hard times by giving us support and motivation. You are the best! Happy boss day!
Because of you, the workplace seems like a playground. Thanks for making it so easy for us. Wishing you all the love and happiness on this day!
Happy Boss Day! You make our jobs feel interesting and the workload seem easier!
Your enthusiasm and compassion are very contagious! Happy Boss Day!
Wishing you a Happy Boss Day! We appreciate your work ethics!
You have answers to all our problems. You are one of a kind and a source of inspiration for us. Wishing you all the success on this day!
Managing people is an art which only the greatest leaders can accomplish. You inspire us with everything you do. Happy boss day!
Happy Boss Day! Much respect for always leading us well in the office!
Funny Boss Day Messages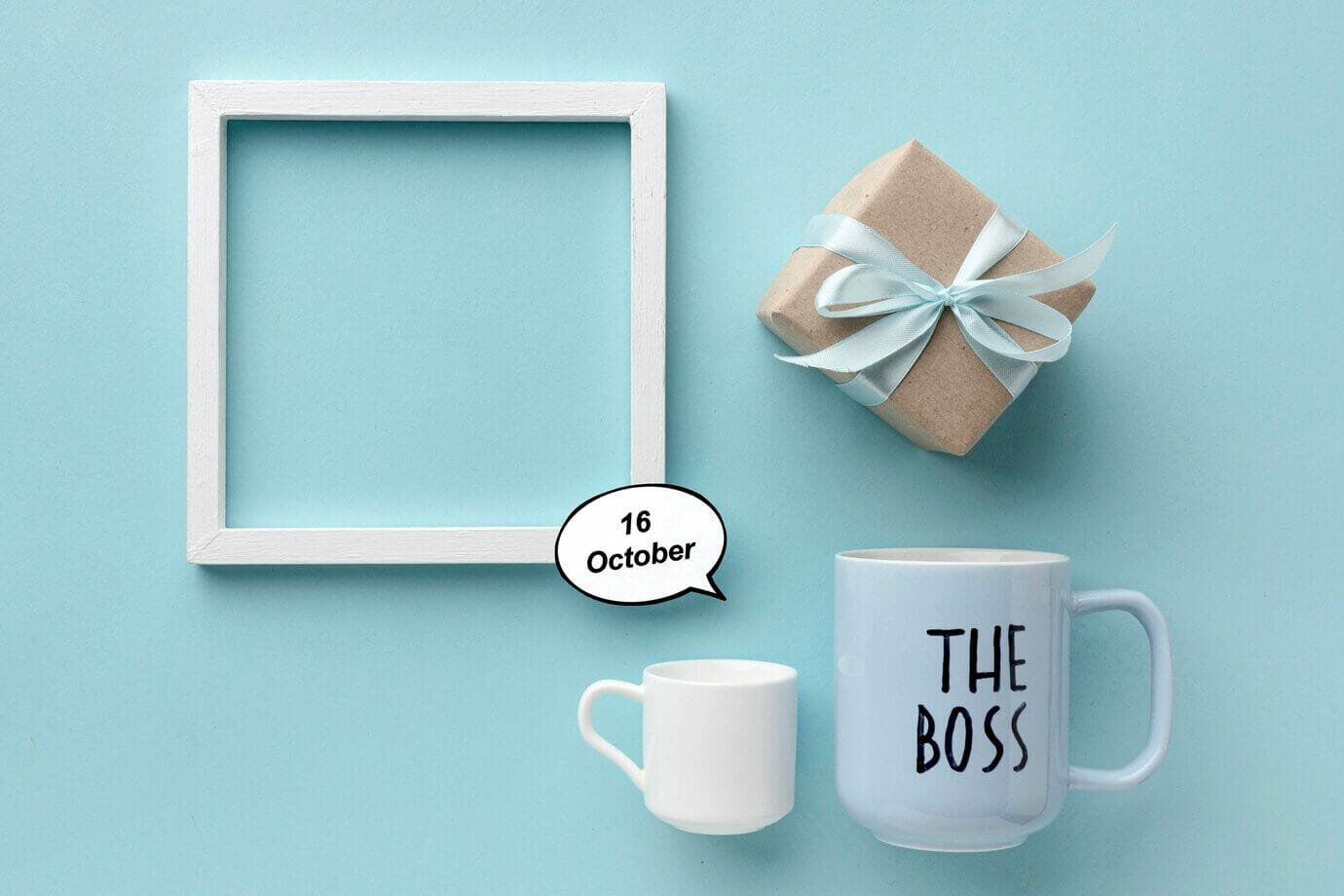 Boss, I have a question: What do you call people who work with you? Answer: the lucky ones. Happy Boss' day!
We always get tired of watching you work! You are such a hardworking boss!
A moment of work is observed in honor of you. Happy Boss day
You are the first Boss that I never thought of pushing down the stairs. Happy Boss day!
If you have not spotted my abilities, these talents are now in the grave. Thank you, Boss!
To the leader of the dysfunctional band, Happy Boss' day!
Happy Boss Day to the most control freak person. May you approve this card.
Boss, we thought of sending you greetings of Happy Boss day on Facebook since you spend most of the time there.
There is no one as lucky as me because there is no one who has a boss as amazing as you…. Happy Boss Day to you.
Let's celebrate Boss's Day by abundantly thanking people who make pitifully higher salaries than us. Happy Boss Day!
Boss, thank you for tolerating my occasional mistakes.
They say you can adjudicate a boss by merely looking at the people working for him. Therefore, we are so damn good. Happy Boss Day.
Perfect Boss's Day Messages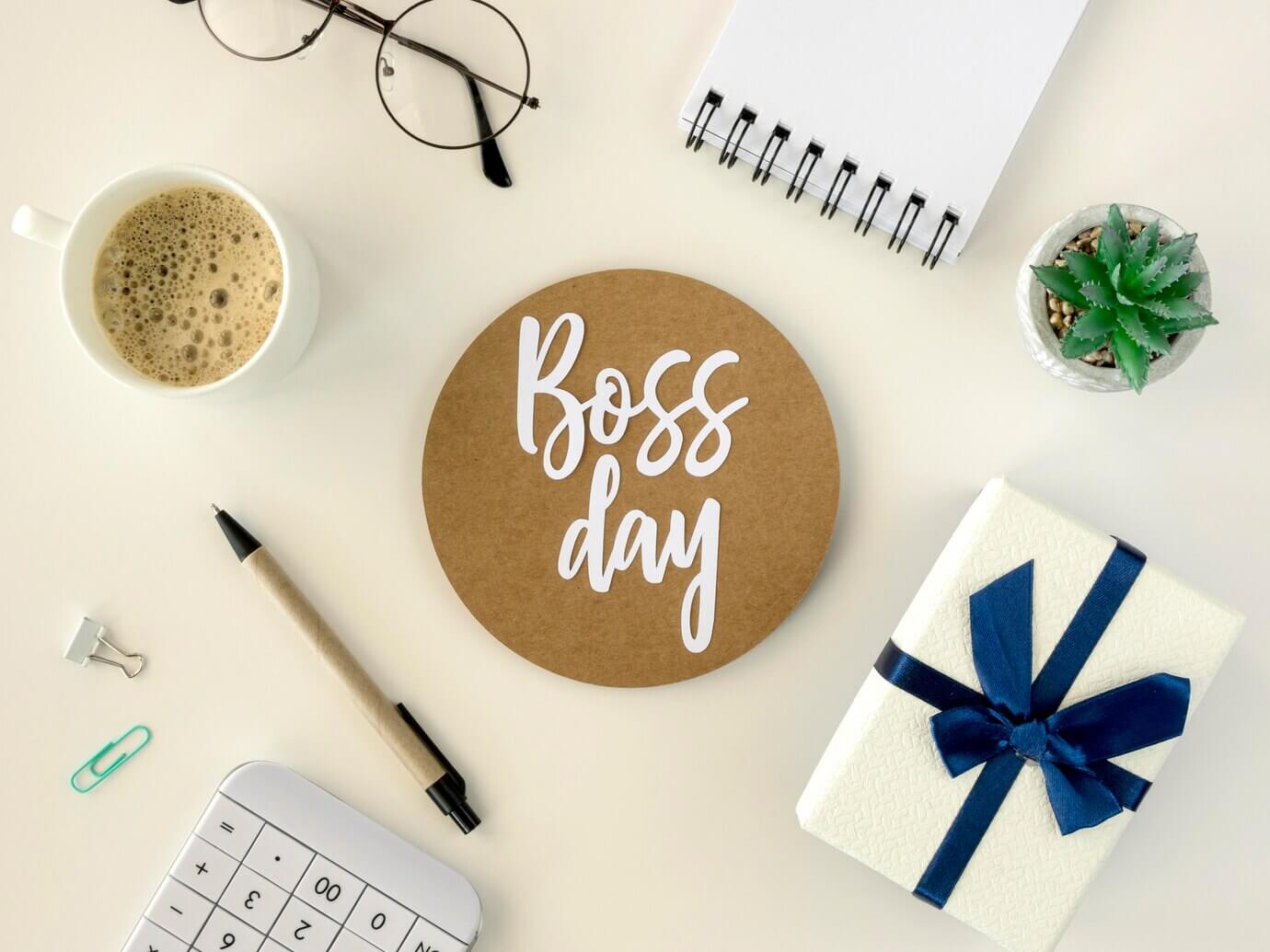 I have learned so much from you and know that I have much still to learn. Each day, you show me anything is possible. Through your example, I know the kind of leader I want to be, and I can only hope to become at least half the leader you are. Thank you for being the role model this industry needs.
Your guidance, support, and overall demeanor have made this job feel more like an adventure in my growth. I value each and every day I get to work for you. Thank you for everything you don't realize you do, and I hope today is as awesome as you've made working here be.
To simply call you a boss does not do justice to the role you play. You are a leader. You are a mentor. You are a source of encouragement and motivation. It is an honor to work for a boss like you. Happy Boss's Day to one of the best.
Each day you inspire me to trust in my abilities, keep a positive attitude, and always strive for more. You are my guiding compass when I've failed, and my biggest supporter when I succeed. Your influence has contributed greatly to my development within my own role. Thank you for being such a great example. Happy Boss's Day.
Happy Boss's Day. I want you to know how lucky I count myself to have you as my boss. You are an incredible and compassionate leader. People like you are rare, and I am grateful to have had this opportunity. It has been a truly remarkable experience, and I look forward to the years to come.
Thank you for being someone I can always approach, no matter how full your workload. You have taken the time to coach me when I've been uncertain, and made the effort to compliment me when I've done well. Your support has been invaluable. Happy Boss's Day to the greatest boss I know.
Occasionally in life we come across people who are so extraordinary that it ignites a fire within us. Suddenly anything seems possible, and we feel driven to exceed our own limitations. You are one of these people. You not only see my potential, but you push me to fulfill it, and that's what makes you a magnificent boss. Happy Boss's Day.
I want to say thank you and share with you my gratitude for making it easy to come to work each day. You have created a great workplace environment through your leadership and guidance. I have gained so much from your management style and hope to learn more. Happy Boss's Day.
I want to wish you a very happy Boss's Day. In my eyes, you deserve more than one day because you are the one to help guide each employee to do our very best. It is thanks to your guidance that I am doing well here in this job. You have my endless debt of gratitude.
Congratulations to a great boss on your special day. I want to extend my gratitude and share what it means to work for a boss like you. Every day you encourage me to be my best and provide me with a safe workspace where I feel valued. I am lucky to work for someone like you. I hope you have an amazing Boss's Day.
It is easy to work for someone I have so much respect for. Even in the most difficult times, I am able to persevere because I know you are at the frontline. Thank you for being such an upstanding person, and such an outstanding boss. Best Boss's Day wishes.
I want to say thank you to an excellent boss. It takes talent to be a great manager, and you are one of the best. You have guided us all to work hard and excel, and I couldn't be any happier working for you. You are the one and only leader that I would choose to follow. Happy Boss's Day.
I never thought I would work for someone who would have such a strong impact on me. Each day you surprise me with how you can get the job done. I look forward to following your lead and feel lucky to be able to work under your guidance. Happy Boss's Day.
Happy Boss's Day. I've heard leadership described as an art, and that definition fits you well. You lead with bold strokes and bright colors to create an environment as dynamic as you are. The result is a great place to work, and I admire your style. Thank you for being who you are.
The difference between a person in charge and a leader is like the difference between a cook and a chef. You are a gourmet leader who motivates me at every turn. Thank you for supporting, inspiring, and encouraging me. Happy Boss's Day.
A boss is like a box of chocolates: you never know what you're going to get. That's not exactly how the quote goes, but it certainly applies. I'm grateful to have found the best in the box. Thank you for your mentorship, and I hope you have a wonderful Boss's Day.
Boss's Day wishes to a hands-on leader. Having a boss willing to work in the trenches with me means so much. I look up to you as both a mentor and coach, and I treasure the faith you put in me. I hope you have a day worthy of the leader you are.
To a captain who inspires me, thank you for steering me in the right direction. On this Boss's Day, I want to recognize your extraordinary leadership and steadfast commitment to our shared cause. Thank you for being such a great boss.
I would like to extend my best wishes today, when we honor the bosses who have left a permanent impression on us. You have been that boss for me, and I'll never forget that. The lessons I've learned under your tutelage have shaped me for the better. Happy Boss's Day.
Every student needs a teacher, and every team needs a leader. You've shown that you are both. I'd like to extend my best Boss's Day wishes to you for all the work you've done. Thank you!
Thank you for all that you do, on and off the clock. Your tireless devotion to the company's direction is nothing short of admirable. Please accept my deepest thanks for your hardwork and dedication. Happy Boss's Day!
Happy Boss's Day to a strong, resourceful captain. The coach of the team, and the head of the table, you've never let your objectives slip through your fingers. Let's celebrate you today, and let's remember all that you have strived for that led us to where we are today. It was no coincidence that you made it this far, and I know you'll go even further.
I am indeed lucky to have you as my boss. You help me become the best I can in the workplace. You are always there with words of encouragement when things get tough. You pick me up when I stumble, and you have the ability to put me right back on track. Happy Boss's Day.
Having you as my boss makes it an absolute pleasure to come to work every day. You support me in all that I do and help me when needed. You are quick to help solve the problems that arise in the workplace with confidence and integrity. You have my utmost gratitude. Happy Boss's Day.
You are a great leader. You are intuitive and understanding, which enables us to complete our jobs with excellence. You make the workplace a positive and accepting place to be, which in turn makes it a very productive environment. Thank you for the atmosphere you have created, and for making me feel valued. Happy Boss's Day.
For all you've done for the people you've met, thank you. Your work in building yourself up to this point can't go unnoticed. And today, it will be celebrated. Enjoy your day, and please know that you've never steered me wrong. Thank you for all that you've done, and for all that you'll continue to do. Happy Boss's Day.
There is a difference between a boss and a leader, but I've seen you embody the best of both worlds. You've consistently let the best interests of those around you dictate your direction. For your strong leadership, I want to thank you and I hope you have a fantastic Boss's Day.
On today, Boss's Day, I want to express how grateful I am to have you at the helm of the ship. You've led us through choppy waves and heavy storms alike. You ending up where you are is no accident. It's all due to your continued and skilled piloting of your ship. Thanks for being my boss, and happy Boss's Day.
To a boss whom I respect deeply. Thank you for your talent for administration and gift of inspiration. As a new employee, one never knows what to expect. I couldn't be happier with the good fortune I have in working under you. Happy Boss's Day.
I've heard that the key to management is listening, which means I am fortunate to work under a mentor such as yourself. Thank you for hearing what I have to say. My compliments on your positive manner and how you create an environment that fosters productivity. Happy Boss's Day to you.
Motivating and challenging are two words to describe my experience of having you as my boss. You are great to work for, and I appreciate the time and effort you put into bring out the best in me. You play an important role in my growth as an employee, and I feel lucky to have you in command. I hope you have the best Boss's Day ever.
There are those in charge who see the big picture, and others who are detail-oriented. I'm sending Boss's Day wishes to a supervisor who can do both. You're a strong decision-maker, and I'm lucky to have you as a mentor. One of the finest perks of this job is having you as my boss. Happy Boss's Day.
The strongest compliment bosses can get is that they lead by example, and you do exactly that. Not only do you demonstrate effort and focus, you do so with positivity. Thank you for how you motivate me and make the workplace better. Best wishes for a great Boss's Day.
Happy Boss's Day. To me, you are the best boss because you are a mentor first and a boss second. You make me want to strive for more and reach for the stars. I wouldn't want to work for anyone else and feel honored to be part of your team. Enjoy your special day.
If every boss was as great as you, no one would want to leave their work. Your character shines through in the way you not only care about your staff, but you also support and respect them. I appreciate you and value your expertise. Enjoy your day. Let's celebrate!
You have been the role model that has helped inspire me to be the best I can be. Without you as my leader, I know I would not be where I am today. You have taught me so much through your expertise, and I am lucky to celebrate you. Happy Boss's Day.
On this special day, I think about all your hard work and guidance of this company. Without you, we would not be where we are today, moving forward with great success. I look to you with admiration and am inspired by your dedication. My deepest respect to you, and Happy Boss's Day.
No other boss deserves a special day quite like you. You demonstrate that diligence and dedication to your work are what make a company thrive. You have treated your employees with respect and have allowed us to spread our wings and fly. I am delighted to have you as a boss and as a mentor. Happy Boss's Day!
Like a wolf leading the pack, you've forged ahead through sun and rain, a trusted and fair leader. You've been my reassuring voice at the end of a long day. My enthusiastic encouragement at the start of a new one. My voice of courage when things get tough. Happy Boss's Day! You're the boss everyone hopes for.
Thank you for being such a marvelous boss. For being an attentive listener. For being an honest leader. But most importantly, for being someone who genuinely cares. I couldn't imagine wanting to work anywhere else, and it's because of the amazing environment you have created. Best wishes to you on Boss's Day.
It is my aspiration that I can one day inspire others the way you have inspired me. With your words, actions and daily habits, you have taught me so much. You are a hard-working, passionate and humble leader. It is a privilege having you as my boss. Happy Boss's Day!
Best wishes to a one-of-a-kind boss. You have the ability to command the room without being condescending. You are able to offer guidance without shutting down ideas. You consistently encourage growth without criticizing performance. Working for you has been a pleasure. Have a great Boss's Day.
You are a boss who makes a difference. You are, without question, the one who keeps this ship sailing. Without your leadership, we would be lost at sea. Thank you for being our guiding constellation. You never fail to lead us in the right direction. You deserve this day in your honor. Happy Boss's Day.
I never thought that I would be the kind of person who looks forward to going to work each day. You have both challenged me and encouraged me in ways I never imagined. The knowledge and tools you have given will guide me, always, and my appreciation for you will never end. Happy Boss's Day.
An employee may not always find their boss acceptable, and it's very understandable. However, your employer is one of the many impactful people in your life, and he deserves a "happy national boss day" from you. Want to go beyond? Thoroughly read the list of Boss's Day quotes and select one that goes align with the message you want to convey.