Mother's day poems are often given to mothers on the Mother's Day. There are many ways to this day, apart from sharing Mother's Day greetings; you can also read mother's day poems. Mother's Day is celebrated to express gratitude to mothers who have cared for and raised us. Gratitude to mothers is often expressed through beautiful poems. Therefore, not infrequently we find poems for mothers in articles, magazines or even school textbooks.
Mother's Day is a day of commemoration or celebration of the role of a mother in her family, both for her husband, children, and social environment. The celebrations can also be done by children and adults to their mothers. According to Weisz, the results of his research showed that affection, love, gratitude to mothers regardless of age, can occur in children to adults though. So, you don't have to be ashamed to celebrate Mother's Day even though you are an adult. Mothers day poems can also be given to your mother in person or in front of other family members.
If you are confused about how to convey a poem for mom, just give it to her in the following ways.
Phone – If you are on a long trip and do not have time to meet your mother, just read the mother day poem that you have made over the phone.
Letter – You can also give mothers day poem in form of a letter. Give it along with a gift for your mother.
Videos – If you are embarrassed to read mom poems in front of your mother in person, you can make a video to convey it as creatively as possible.
Express Love to Mother through Poems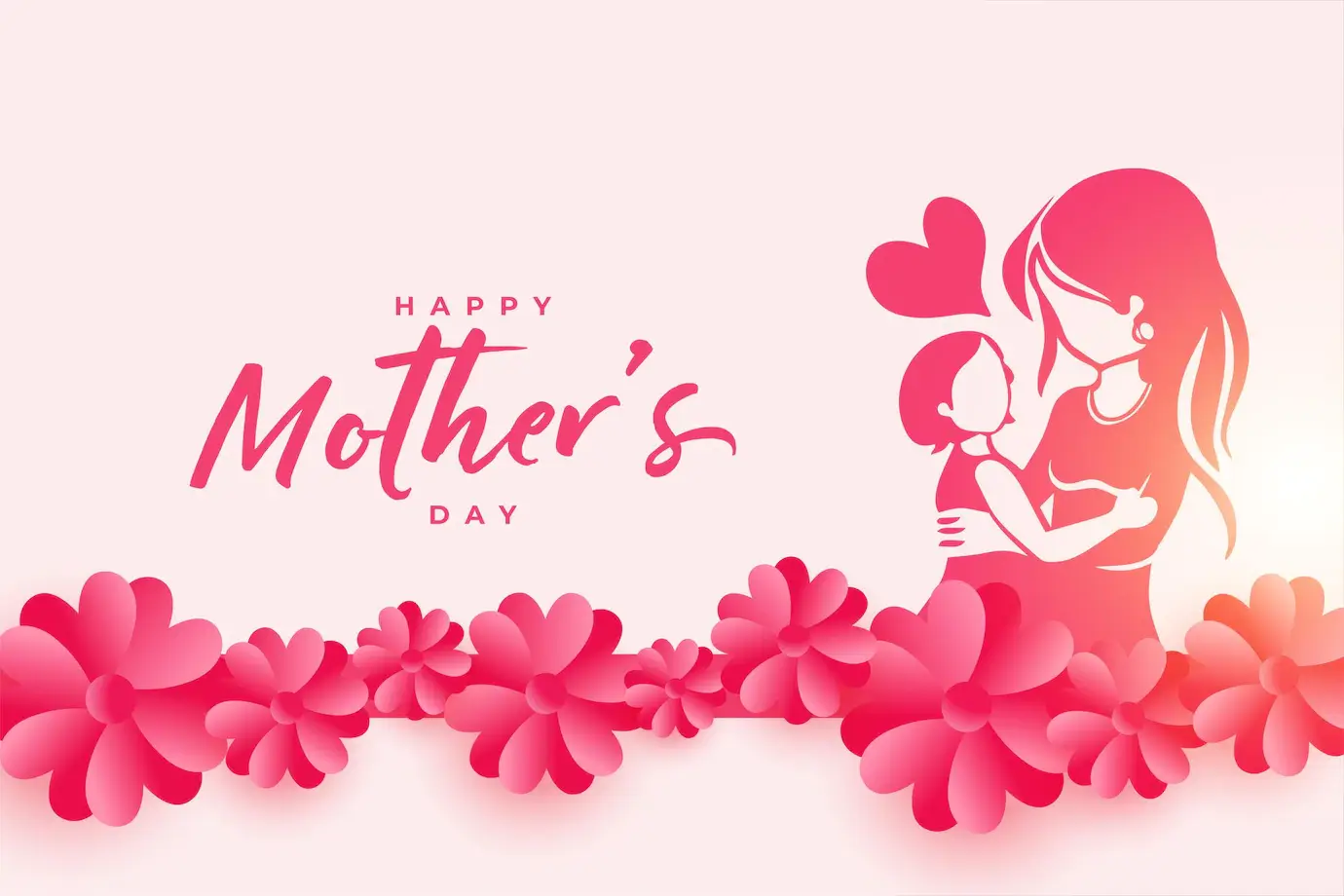 One of the arts that are inspired by a mother is poetry. Poetry is indeed a broad art and it has a very deep meaning. Likewise with the mother poem which really talks about a mother. To express our love for mother, we can do various things, such as giving gifts, surprises, and attention for her. However, there is another way, which is using the poems about mothers. With a poem of the day, this feeling can be fully expressed, and it best represents what we feel.
**_M – O – T – H – E – R
"M" is for the million things she gave me,
"O" means only that she's growing old,
"T" is for the tears she shed to save me,
"H" is for her heart of purest gold;
"E" is for her eyes, with love-light shining,
"R" means right, and right she'll always be, Put them all together, they spell
"MOTHER,"
A word that means the world to me. -Howard Johnson
**_Only One Mother Hundreds of stars in the pretty sky, Hundreds of shells on the shore together, Hundreds of birds that go singing by, Hundreds of lambs in the sunny weather. Hundreds of dewdrops to greet the dawn, Hundreds of bees in the purple clover, Hundreds of butterflies on the lawn, But only one mother the world wide over.
**_Mother's Love. Her love is like an island in life's ocean, vast and wide A peaceful, quiet shelter From the wind, the rain, the tide. 'Tis bound on the north by Hope, By Patience on the West, By tender Counsel on the South And on the East by Rest. Above it like a beacon light Shine Faith, and Truth, and Prayer; And thro' the changing scenes of life I find a haven there.
**_Mom And Me. Best friends forever mom and me picking flowers and climbing trees. a shoulder to cry on secrets to share Warm hearts and hands that really care.
**_A Precious Mother. Mom You've given me so much, Love from your heart and the warmth of your touch. The gift of life and you're a friend to me. We have a very Special Bond which only comes from God… I'm sure you agree. As a child I would say Mommy I Love You, Now you're my Mother so dear I love you even more with each and every new year. If I could had chosen, I would have picked no other. Than for you…to be my lifelong friend and Precious Mother.
**_"if there are any heavens" if there are any heavens my mother will(all by herself)have one. It will not be a pansy heaven nor a fragile heaven of lilies-of-the-valley but it will be a heaven of blackred roses —e.e. cummings
**_"My Mother Would Be a Falconress" My mother would be a falconress, and I her gerfalcon raised at her will, from her wrist sent flying, as if I were her own pride, as if her pride knew no limits, as if her mind sought in me flight beyond the horizon. —Robert Duncan
**_"Butterfly Laughter" In the middle of our porridge plates There was a blue butterfly painted, And each morning we tried who should reach the butterfly first. Then the Grandmother said, "Do not eat the poor butterfly." That made us laugh. Always she said it and always it started us laughing. It seemed such a sweet little joke. I was certain that one fine morning The butterfly would fly out of the plates, Laughing the teeniest laugh in the world, And perch on grandmother's lap. —Katherine Mansfield
**_"To My Mother" O thou whose care sustained my infant years, And taught my prattling lip each note of love; Whose soothing voice breathed comfort to my fears, And round my brow hope's brightest garland wove; To thee my lay is due, the simple song, Which Nature gave me at life's opening day; To thee these rude, these untaught strains belong, Whose heart indulgent will not spurn my lay. O say, amid this wilderness of life, What bosom would have throbbed like thine for me? Who would have smiled responsive?—who in grief, Would e'er have felt, and, feeling, grieved like thee? Who would have guarded, with a falcon-eye, Each trembling footstep or each sport of fear? Who would have marked my bosom bounding high, And clasped me to her heart, with love's bright tear? —Lucretia Maria Davidson
**_"Rock Me to Sleep" Over my heart, in the days that are flown, No love like mother-love ever has shone; No other worship abides and endures,— Faithful, unselfish, and patient like yours: None like a mother can charm away pain From the sick soul and the world-weary brain. Slumber's soft calms o'er my heavy lids creep;— Rock me to sleep, mother, — rock me to sleep! —Elizabeth Akers Allen
**_"Home" Here is a thing my heart wishes the world had more of: I heard it in the air of one night when I listened To a mother singing softly to a child restless and angry in the darkness. —Carl Sandburg
**_"Sonnets are full of love, and this my tome" Sonnets are full of love, and this my tome Has many sonnets: so here now shall be One sonnet more, a love sonnet, from me To her whose heart is my heart's quiet home, To my first Love, my Mother, on whose knee I learnt love-lore that is not troublesome; Whose service is my special dignity, And she my loadstar while I go and come And so because you love me, and because I love you, Mother, I have woven a wreath Of rhymes wherewith to crown your honored name: In you not fourscore years can dim the flame Of love, whose blessed glow transcends the laws Of time and change and mortal life and death. —Christina Rossetti
**_"The Reading Mother" I had a Mother who read me tales Of Celert the hound of the hills of Wales, True to his trust till his tragic death, Faithfulness blent with his final breath. I had a Mother who read me the things That wholesome life to the boy heart brings- Stories that stir with an upward touch, Oh, that each mother of boys were such. You may have tangible wealth untold; Caskets of jewels and coffers of gold. Richer than I you can never be — I had a Mother who read to me. —Strickland Gillilan
**_"Mother's Way" If our home be bright and cheery, If it holds a welcome true, Opening wide its door of greeting To the many — not the few; If we share our father's bounty With the needy day by day, 'Tis because our hearts remember This was ever mother's way. —Abram Joseph Ryan
**_"Wanderer's Song" The thread in the hand of a kind mother Is the coat on the wanderer's back. Before he left she stitched it close In secret fear that he would be slow to return. Who will say that the inch of grass in his heart Is gratitude enough for all the sunshine of spring? —Meng Jiao
**_"The Mother's Kiss" Life grew so radiant and so opulent, That when her fragile body and her brain By mortal throes of agony were rent, She felt a curious rapture in her pain. Then, after anguish, came the supreme bliss— They brought the little baby for her kiss. —Ella Wheeler Wilcox
**_"A Mother's Name" I love the sound! The sweetest under Heaven, That name of mother,—and the proudest, too. As babes we breathe it, and with seven times seven Of youthful prayers, and blessings that accrue, We still repeat the word, with tender steven. Dearest of friends! dear mother! what we do This side the grave, in purity of aim, Is glorified at last by thy good name. —Eric Mackay
**_"Mother" Your love was like moonlight turning harsh things to beauty, so that little wry souls reflecting each other obliquely as in cracked mirrors . . . beheld in your luminous spirit their own reflection, transfigured as in a shining stream, and loved you for what they are not. —Lola Ridge
**_"The Mother of a Poet" ​​She is too kind, I think, for mortal things, Too gentle for the gusty ways of earth; God gave to her a shy and silver mirth, And made her soul as clear And softly singing as an orchard spring's In sheltered hollows all the sunny year, A spring that thru the leaning grass looks up And holds all heaven in its clarid cup, Mirror to holy meadows high and blue With stars like drops of dew. —Sara Teasdale
**_"Mama Never Forgets Her Birds" Mama never forgets her birds, Though in another tree— She looks down just as often And just as tenderly As when her little mortal nest With cunning care she wove— If either of her "sparrows fall," She "notices," above. —Emily Dickinson
**_"Prayer for a New Mother" Let her have laughter with her little one; Teach her the endless, tuneless songs to sing, Grant her her right to whisper to her son The foolish names one dare not call a king. —Dorothy Parker
**_If I had a single flower for every time I think about you, I could walk forever in my garden —Claudia Adrienne Grandi
**_"To My Mother" Because I feel that, in the Heavens above, The angels, whispering to one another, Can find, among their burning terms of love, None so devotional as that of "Mother," Therefore by that dear name I long have called you— You who are more than mother unto me. —Edgar Allan Poe
Mother's Day Poems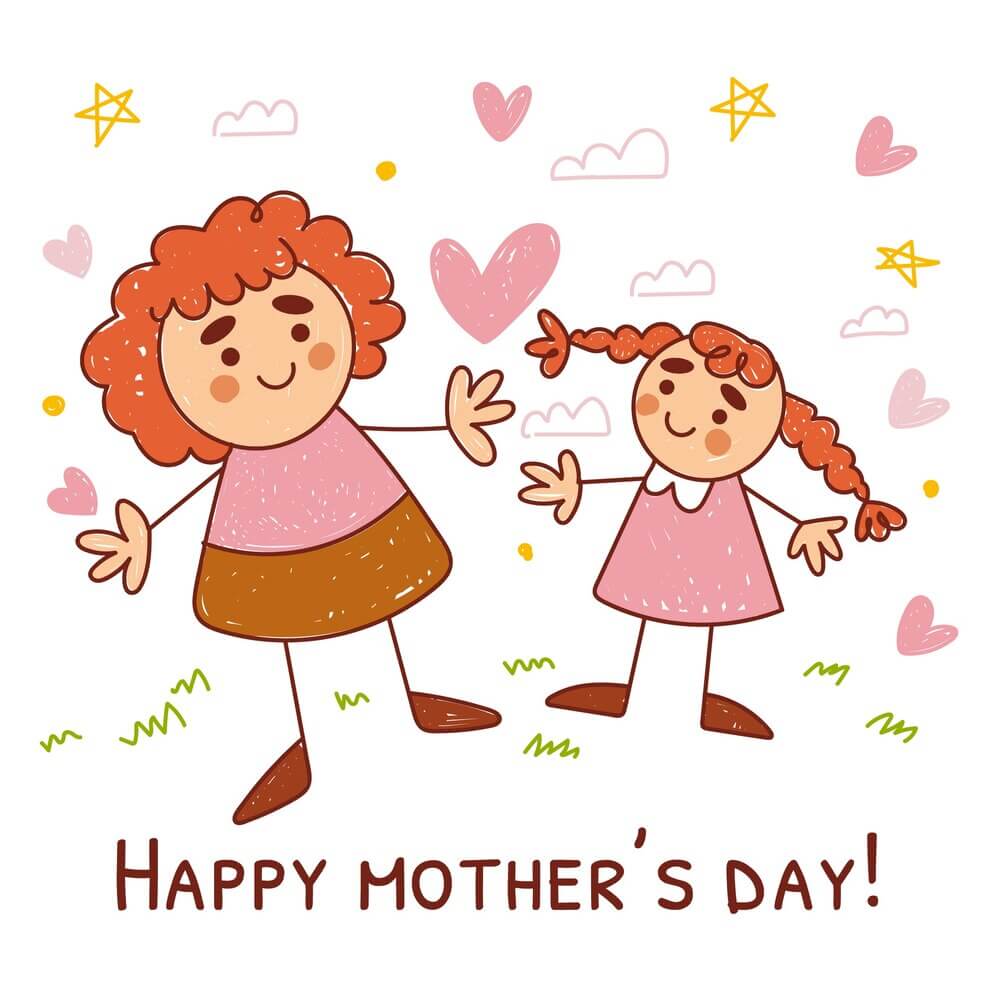 **_A Mother's Love Of all the special joys in life, The big ones and the small, A mother's love and tenderness Is the greatest of them all. – Anon.
**_Shortest Mother's Day Poem You're my mother, I would have no other! – Forest Houtenschil
**_Wonderful Mother The heart of a home is a mother Whose love is warm and true, And home has always been "sweet home" With a wonderful mother like you! – Anon.
**_Mothers Prayer I thank you from the heart For all you've done for me And I bless The Lord for giving me The best mother there could be! -Anon
**_Thank You, Mother Once upon a memory Someone wiped away a tear Held me close and loved me, Thank you, Mother dear. – Anon.
**_I Love You Mom! Mom's smiles can brighten any moment, Mom's hugs put joy in all our days, Mom's love will stay with us forever and touch our lives in precious ways… The values you've taught, the care you've given, and the wonderful love you've shown, have enriched my life in more ways than I can count. I Love you Mom! – Anon.
**_To My Mother. For all the times you gently picked me up, When I fell down, For all the times you tied my shoes And tucked me into bed, Or needed something But put me first instead. For everything we shared, The dreams, the laughter, And the tears, I love you with a "Special Love" That deepens every year. – Anon.
**_Mother… You filled my days with rainbow lights, Fairytales and sweet dream nights, A kiss to wipe away my tears, Gingerbread to ease my fears. You gave the gift of life to me And then in love, you set me free. I thank you for your tender care, For deep warm hugs and being there. I hope that when you think of me A part of you You'll always see. – Anon.
**_Wonderful Mother. God made a wonderful mother, A mother who never grows old; He made her smile of the sunshine, And He molded her heart of pure gold; In her eyes He placed bright shining stars, In her cheeks fair roses you see; God made a wonderful mother, And He gave that dear mother to me. – Pat O'Reilly
**_Wishing You a Wonderful Day. Sending this, Mom, Especially to say Wishing you a happy And wonderful day… And to tell you this day Will always be one For remembering the many Sweet things you have done! – Anon.
**_Untitled. Here's wishing you a Mother's Day That's filled with every pleasure, And a future that's as happy As the memories you treasure! – Anon.
**_A Wish for You. Just one little wish for you, Mom, But it's loving and happy and true – It's a wish that the nicest and best things Will always keep coming to you! – Anon.
**_Blessing. There is no blessing Quite so dear… As a mom like you To love year after year. – Anon.
**_Put Up With Me. I'm glad that you're my mother, Kind and caring and strong. Coz surely no-one else, Could have put up with me this long! – Holly Giffers
The Poems about Mothers to Express Gratitude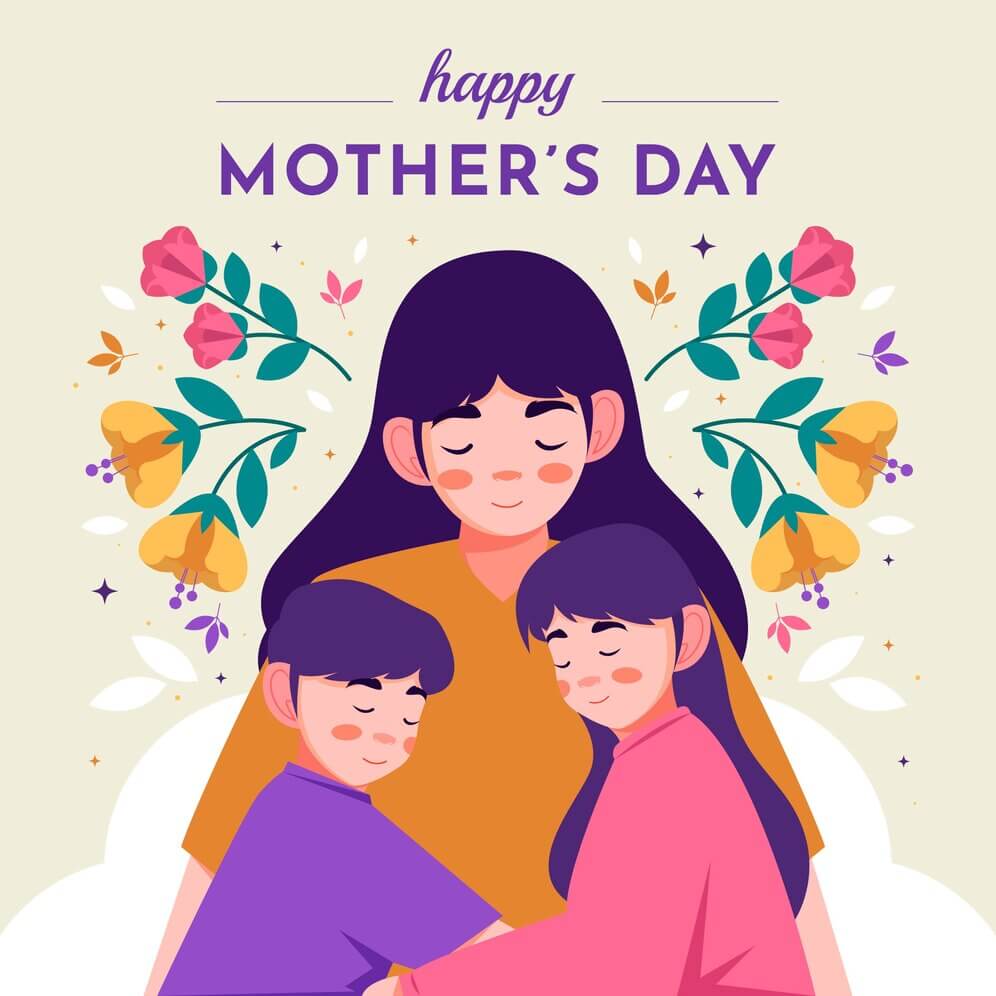 Mother is the one who gave birth to us, and from her womb we were born into this world. She is the one who never stops educating and giving us advice. Well, it is a piece of good advice for her child. The struggle of a mother starting from conceiving, giving birth, to caring for and raising us with love cannot be paid for with any treasure.
**_A Thousand Thanks Mother's Day brings to mind The thousands of things you did for me that helped make me happier, stronger and wiser, because I had you as a role model. I'm grateful for all the times you healed my hurts and calmed my fears, so that I could face the world feeling safe and secure. I'm thankful for all you showed me about how to love and give– lessons that now bring so many blessings to me each and every day. Your sacrifices and unselfishness did not go unnoticed, Mom. I admire you, I respect you, I love you. And I'm so glad you're my mother! Happy Mother's Day! By Joanna Fuchs
**_Mystery Mom Mom, your love is a mystery: How can you do it all? You're always there with the perfect fix For my problems, big and small. Your love protects me day after day, So I'm fearless, safe and sound. I feel that I can do anything Whenever you're around. Mom, your love is a mystery, I haven't got a clue Why you love me all time, But I'm very glad you do! By Joanna Fuchs
**_Without You Mom, without you, there would be no me. Your love, your attention, your guidance, have made me who I am. Without you, I would be lost, wandering aimlessly, without direction or purpose. You showed me the way to serve, to accomplish, to persevere. Without you, there would be an empty space I could never fill, no matter how I tried. Instead, because of you, I have joy, contentment, satisfaction and peace. Thank you, mom. I have always loved you and I always will. By Joanna Fuchs
**_My Miracle Mother Mom, I look at you and see a walking miracle. Your unfailing love without limit, your ability to soothe my every hurt, the way you are on duty, unselfishly, every hour, every day, makes me so grateful that I am yours, and you are mine. With open arms and open heart, with enduring patience and inner strength, you gave so much for me, sometimes at your expense. You are my teacher, my comforter, my encourager, appreciating all, forgiving all. Sometimes I took you for granted, Mom, but I don't now, and I never will again. I know that everything I am today relates to you and your loving care. I gaze in wonder as I watch you being you— my miracle, my mother. By Joanna Fuchs
**_You Let Me Know You Love Me You let me know you love me In so many different ways. You make me feel important With encouragement and praise. You're always there when I need you To comfort and to care. I know I'm in your thoughts; Your love follows me everywhere. Thank you for all you've done And given so generously. I love you, my wonderful mother; You're a heaven-sent blessing to me. By Joanna Fuchs
**_I Can Count On You Mom, whenever I feel weak, I can count on you. Your deep strength seems endless. You let me draw on it, you freely give it, and I recover. Mom whenever I stray from the path, I can count on you. You're here for me. You help me find my way back to what's right and honest and worthwhile. Mom whenever I get too wrapped up in me, me, me, I can count on you. You quickly bring me back to earth, reminding me of the importance of love and service to others. Everyone should have a role model like you, Mom. I love you, and I want you to know: you can count on me. By Joanna Fuchs
**_I Learned From You I learned about love from you, Watching your caring ways. I learned about joy from you In fun-filled yesterdays. From you I learned forgiving Of faults both big and small. I learned what I know about living From you, as you gave life your all. The example you set is still with me I'd never want any other. I'm thankful for all that you taught me, And I'm blessed to call you "Mother." By Joanna Fuchs
We can express our gratitude to her through words, and one of which is through the Mother's Poems that we can give on her birthday or on the Mother's Day. With this, the day will be more memorable. Well, a Mother's day poem is just an expression of our hearts for the love and gratitude that's very much to her.