There are many easy solutions for live event management, streaming, event applications, and on-site collaboration to help you successfully run all types of virtual events from a single branded platform.
It is no wonder why you can easily find your go-to virtual event platform for many hosts, attendees, and sponsors.
In-person meetings and connections worked perfectly well in the pre-COVID-19 pandemic times. The huge events industry all over the world was valued at more than $1,100 billion back in 2018.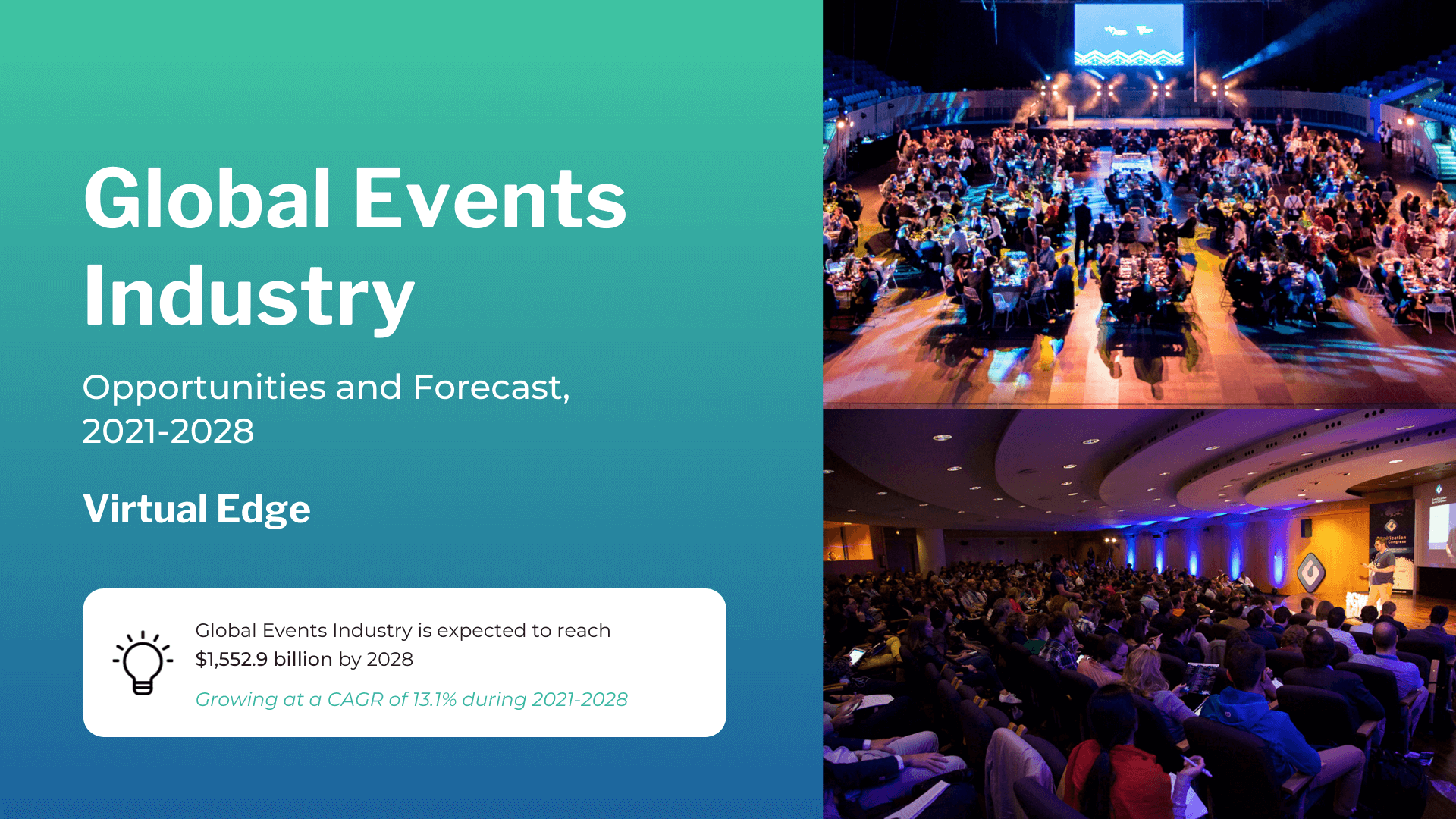 However, with the recent lockdowns and other changes in the modern workplace, online virtual events have become the most effective way of bringing people together in the same space without physical attendance.
What is a Virtual Event?
You have probably attended an online webinar or participated in a meeting virtually using a video conferencing tool.
Most people even join on-demand workout classes through an online virtual platform. These are just a few of the many examples of virtual events where people experience the activities of the event and its content online instead of gathering in person.
A virtual event can be defined as an event organized, hosted, and run online. The attendees of a virtual event can join and participate from any part of the world because no physical presence is required. The entire session is streamed online.
There are many types of virtual events. The event can cover just about any topic in any industry. However, the most common types of virtual events include webinars, virtual conferences, internal hybrid events, and external hybrid events.
You should find a virtual event platform with all the equipment and technology you need to hold any type of virtual event.
What is a Virtual Event Platform?
With many people working remotely today, especially with the current COVID-19 pandemic restrictions, most meetings and conferences are taking place on popular online platforms such as Zoom, Webex, and Google Meet.
These online platforms provide a safer and convenient way to host interactive sessions complete with audience participation.
On a good virtual event platform, you can even break up your event sessions into smaller groups. Virtual event platforms can be used for every type of interactive meeting where real-time audience participation is required.
What is a Webinar?
A webinar is just another form of a virtual seminar held with a marketing goal in mind. Webinars have been around for more than 20 years and have been used for many years to share content will an engaged audience.
They are typically offered with a marketing objective but can also be held to build brand awareness, boost conversions, establish thought leadership, and much more.
Webinars are organized to target different kinds of audience and therefore require a platform with more attendee tracking capabilities.
What Are Hybrid Events?
The current COVID-19 restrictions and regulations have led to significant growth in virtual events.
However, as governments across the world continue easing restrictions, the trend in holding meetings and events is gradually moving towards hybrid events.
A hybrid event is basically a combination of an in-person and a virtual event where attendees have the option to participate in the event either in person or virtually through an online virtual event platform from any part of the world.
Reasons for Hosting a Virtual Event
Just like an in-person event, a virtual event can be held for any reason from delivering a company's message to generating leads and increasing revenue to building lifetime loyalty value and increasing brand awareness.
Virtual events have been held for many years primarily as webinars and online conferences. A webinar, for instance, is a purpose-built virtual event hosted to cast a wider net and reach a bigger audience when delivering valuable content such as training, thought leadership, and marketing messages.
A virtual conference can also be a regional training program purpose-built to create engaging interaction with your audience via an online platform.
When planning your virtual event, take the time to figure out how the event can be used to reach your goals in a more cost-effective way than an in-person meeting with your audience.
Here are more reasons why individuals, companies, and organizations prefer to hold virtual events over in-person recent conferences.
A virtual event provides easier accessibility than an in-person meeting or conference. It allows you to accommodate people in diverse geographical locations who could not attend the function in person.
A virtual event has a lower budget than traditional events. It can help an organization saving money and cut the costs of holding a bigger event by creating smaller online events and webinars with the capacity to reach a wider audience and bring in a large number of leads. It saves you the cost associated with travel and accommodating the key participants of your event.
In extreme weather, pandemic restrictions, travel bans, or any unforeseen reason, the only option you'd have besides postponing or canceling your event is to hold it online as a virtual event.
The Benefits of Hosting a Virtual Event
Going virtual may not be a foreign concept for most event planners and attendees. Webinars, which are good examples of virtual events, have been around for a long time.
If you want to bring together a global audience without the costs of an in-person function in a physical venue, the best option is to hold an online virtual event.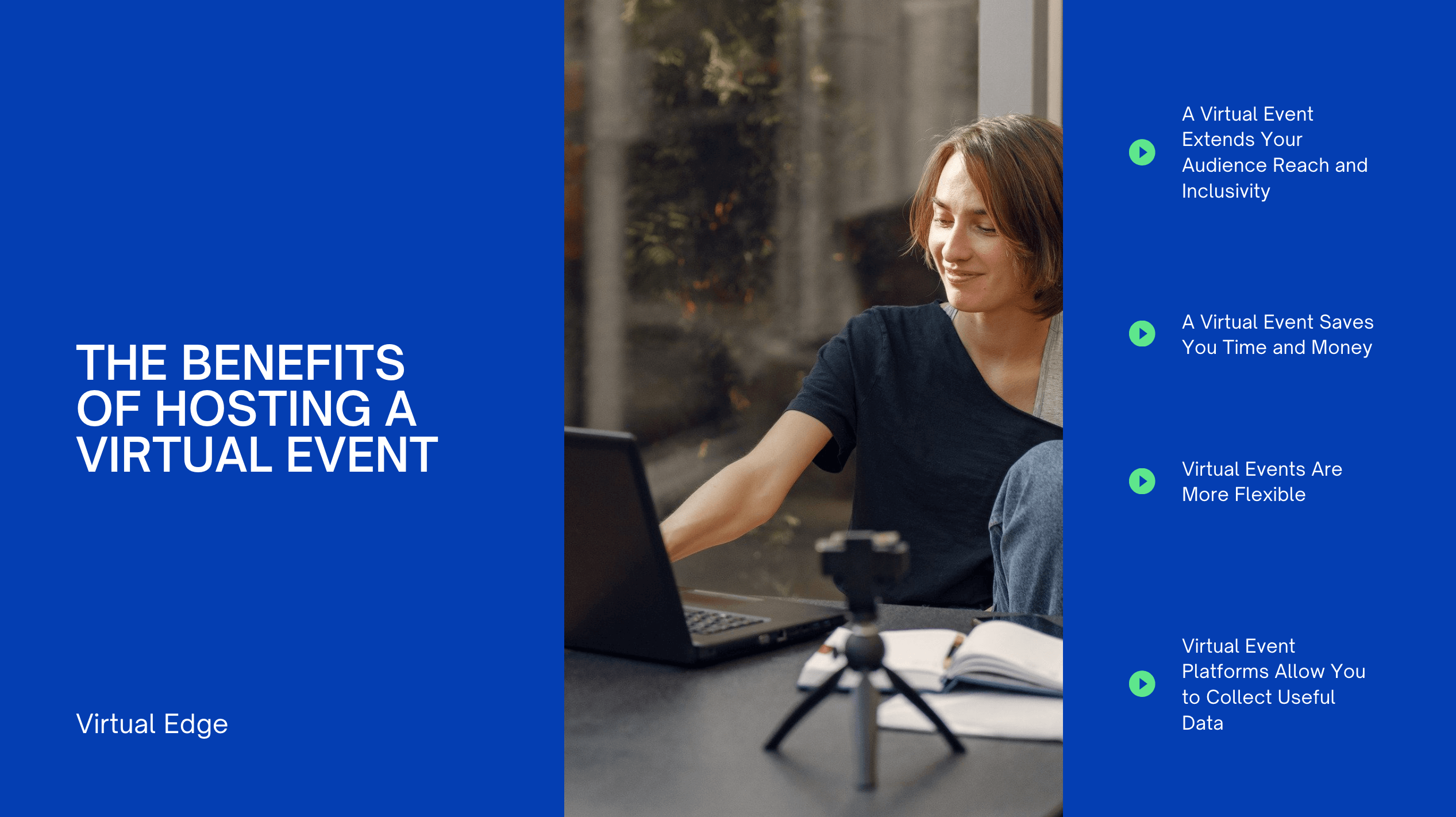 There are many benefits of hosting a virtual event including the following:
A Virtual Event Extends Your Audience Reach and Inclusivity
Attending in-person events can be difficult for many people despite their interest in being part of the function.
Fortunately, everyone invited can attend a virtual function regardless of any personal, financial, or logistic challenge they may have. Even those with health challenges can attend the event virtually from the comforts of their homes. A virtual event adds the element of full inclusivity to the event.
It helps you to reach a wider audience unlike in-person conferences with attendee restrictions due to financial and logistical limitations.
A Virtual Event Saves You Time and Money
Virtual events provide a cost-effective way for event planners with shrinking budgets to host highly engaged meetings and conferences. In fact, it is said that virtual events cost around 75% less than physical in-person conferences and events.
When working on a highly efficient virtual event platform, event planners can make significant savings on hiring staff, physical brick-and-mortar venue, meals, accommodations, travel, and event setup and takedown among others. All the event planner needs to worry about is paying for the virtual meeting platform.
Virtual event planners also save time on logistics when planning an online live event. Most virtual events typically require minimal setup processes such as creating an event website, marketing and promoting the event, registration, post-event surveys, and coordinating with presenters.
You need to find a platform that offers a wide range of services to set up and promote your event and ensure it is a huge success. The cost in terms of money and time spent on planning and running a virtual event is significantly lower than hosting an in-person event in a physical venue.
Virtual Events Are More Flexible
In-person events are grounded to just one physical venue and therefore lack the flexibility of virtual events.
With the help of a reliable and versatile platform, you can create fully branded multiple-use spaces that can be used for different types of events all year round and attended by participants from all over the world. This is possible because virtual events happen online, which gives you plenty of room to decide how to broadcast the event.
So, whether you are doing a quick seminar, company presentation, webinar or a sales kickoff, you'll have the freedom to customize the virtual event platform in the best way to suit your needs.
You can choose to run the event in different languages, invite keynote speakers, and use technology to interact with attendees and make each session as interactive as you want.
Virtual Event Platforms Allow You to Collect Useful Data
Every type of event needs to have an efficient and easy way of collecting data about attendee feedback and engagement.
However, in a traditional in-person event it is often difficult to get people to participate in the data collection process using KPI tracking tools such as surveys and mobile event apps.
Virtual events, on the other hand, have an advantage when it comes to collecting post-event data. Your virtual event attendees can use simple online forms and other platform features to provide helpful data about the event. A good virtual event platform will also have engagement tools that provide you with information about each participant in real-time.
You can clearly gauge how each session is progressing and ultimately measure the success of the event. It is indeed easier to collect data from attendees logged in to the event in a virtual event than an in-person event.
Essential Components of a Successful Virtual Event
The success of a virtual event depends on three core factors namely content, participants' engagement, and data.
Most virtual events feature the same elements as other types of in-person events but of course without the physical appearance of the attendees, a brick-and-mortar venue, and F&B.
Another key element of an event held virtually is the actual virtual event platform where it is held. A good platform should ideally have the best quality video production and connectivity.
Some of the key elements of a virtual event include:
The event website
Registration of participants
Presentation of live content
Recorded content
Interactive video conferencing
Questions and answers (Q&A)
Presentation slides
Live polling
Collecting feedback and surveys
What to Look for in the Best Virtual Event Platform
There are several things you need to consider when researching the best platform to host your virtual event.
The best way to research and evaluate a virtual event platform is by evaluating some of its important key features.
Some of the important features of a good virtual event platform to look for include the following:
Customization Features
When looking for the best virtual event platform, you should always pay attention to the type of customization features that the platform provides.
At the very least, a good virtual event platform should have customization features and functions such as a branded event website, a branded web room, customizable registration capabilities, and customizable email templates for the event.
So, why look for customization?
For a start, customization and branding help to differentiate your event from the rest. For example, when attendees log into the registration page of the virtual event and instead of seeing your logo they see the virtual event platform's logo, they may not be sure if they are in the right place and possibly fail to register for your event.
It is therefore important to integrate as much of your company or organization's branding and messages in the event platform as possible. This will help to create an easily identifiable and consistent experience for your event's attendees.
So, remember to ask for branding opportunities such as branded registration pages and web rooms in the virtual event platform you choose to work with. Inquire about all the information you need about the customizable features and how you can use them to effectively brand your event.
Engagement and Networking Functions and Features
It is also important to communicate with the attendees and participants at every stage of the event and more importantly keep them engaged throughout each session.
A good platform should therefore provide you with messaging, chatting, and preferably group chat features. You should look for group chat and messaging features and the best Q&A technology as well.
The platform should provide you with a polling feature that you can use to stay engaged with your event attendees. They also need to provide you with a feedback surveying feature that you can use to collect valuable data after the event.
Event Automation Features
Automation is another important factor to consider in a virtual event platform. This is because automation not only makes planning for an event easier but also saves you time and money.
Automation is also important when you want to plan and create a virtual event quickly. Similar to your event management software, the platform you use must also have the automation features you need.
Make sure to check how the backend of the platform works, how the platform's systems and processes can be automated, and how long it takes to create the event pages, and if the process can be automated.
Software Integration
Another key thing to consider in the best virtual event platform is the integration of your event management software. You will of course hold the event online but you still need your own event management essentials to plan, market, and run the event.
Effective event management software integration will save you time and money. When combined with the virtual events platform, the event management software not only ensures that all your data is stored in one place but also takes care of all the important functions such as email marketing and the integration of mobile event apps.
You need a versatile virtual event platform that can integrate or partner with your event management software. They should provide an easy way to integrate their own event management software.
The goal is to ensure that you have the best event registration services, the ability to build a professional site and add more pages in just a few minutes, and have an effective email marketing tool at your disposal.
The event management software also comes with a mobile event app with in-app messaging, push notifications, surveying, polling, Q&A, and much more.
Does the Virtual Event Platform Provide Sponsorship Opportunities?
One of the best ways to attract sponsors is to provide them with an opportunity to have their logo on the welcome page of the event instead of placing the logo on the same sheet with other logos from different sponsors.
In this case, you can have high-level sponsors place their standard logos and video messages on the welcome page where the logo will have a stronger impact on the attendees.
You can also provide customized pages where your sponsors can advertise their products with live demonstrations using video footage and other forms of interactive advertising.
Your sponsors can also showcase their products on the online exhibit hall, on your event's main stage, in networking spaces, through the event's social media channels, on rotating ad banners, or even through gamification of sports and messaging.
Sponsorship opportunities are important in creating a successful virtual conference so make sure that the virtual event platform you use provides different sponsorship packages and personalization features for different types of sponsors. And now that 63% of users want personalization as a standard, virtual events can work for everybody.
One-On-One Networking Using Virtual Booths
Virtual event platforms cannot practically provide face-to-face meetings but they can offer virtual booths for one-on-one networking.
These virtual event booths work in the same way as the physical stands you see at in-person events such as festivals and trade shows. The booths help the event organizers, attendees, and sponsors to connect easily.
The virtual event booth can also be integrated with other features such as live video conferencing to help you convert leads into qualified opportunities.
For instance, when you identify a potential prospect in the event, you can always invite them to a private video chat for more personalized attention. The platform should support virtual booths that allow the event's attendees to connect with the speakers and organizers on a face-to-face meeting.
Live Broadcast Feature
It is also important to ensure that your event's keynote speakers and hosts have the ability to broadcast live during the event.
A live broadcast helps in many ways. For instance, it builds a sense of urgency among the attendees and promotes engagement through live polling and Q&A sessions.
They should offer live broadcasts as well as multi-speaker sessions where multiple participants can provide their presentations at the same time.
When evaluating a virtual event platform make sure that it supports live broadcast preferably with automated subtitles in different languages and multi-speaker sessions.
Does the Virtual Event Platform Support Pre Recorded Content?
Most virtual events are actually live events designed to provide maximum attendee engagement and the best attendee experience.
However, it is also important to upload pre-recorded content of some of your sessions. For example, in case a keynote speaker is not able to provide a live presentation but can possibly record his or her content ahead of time, a virtual event platform that supports pre-recorded content will be of great help.
They should provide you with the ability to upload pre-recorded content and a convenient way to schedule the content so that it is broadcast at the right time.
Social Media Integration
Social media plays a big role in ensuring that your event attendees are connected and engaged throughout the virtual function.
Your event attendees may want to share screenshots, quotes, and any interesting takeaways with their friends and colleagues on social media as the event goes on. It is therefore quite helpful to allow them to share the content from your virtual event platform directly to their preferred social network.
Social media integration will also help with generating more buzz and interest about your event. An online event platform comes with easy social media integration for the most commonly used social networks. They even provide you and your event attendees with easy-to-use buttons directly on the platform.
Reporting and Analytics
Reporting and analytics are critical components of any type of event whether in person or virtual.
Everything today is data-driven and so the data collected from an event helps planners to determine if the event was a success and what they can do to improve their future events.
The best virtual event platform should ideally provide you with a suite of analytic and reporting features including the following:
Detailed insights about the event
The attendees' interests and interactivity
Real-time metrics dashboard that allows you to track the event's return on investment (ROI) before during and after the event.
Insights about the benefits of the event to your company, investors, and sponsors
Does the Platform Provide Live Troubleshooting?
It is just the nature of life that regardless of how well you prepare the virtual event there is always a possibility for errors popping up when least expected.
Keep in mind that for virtual events everything is done online and therefore the chances of technical errors arising are higher in an in-person event.
Do not be surprised when your keynote presenter's microphone suddenly malfunctions in the middle of a speech or all the speaker's signals start to dwindle without notice. This is why it is important to ensure that the virtual event platform you're using provides quick and efficient live troubleshooting services.
You are assured of constantly available live troubleshooting and the ability to resolve any technical issues that arise in the fastest way possible. They also offer teaching sessions to your staff and attendees on how to use their virtual event platform.
Mobile Event App Integration
Today, a majority of people are connecting to live events with their mobile devices.
Mobile devices can also be used in virtual events to increase engagement, communicate with participants, and support networking opportunities among other things.
Mobile event apps have many benefits including the following:
Promote engagement especially through Q&A features that your event attendees can use to ask questions to the speaker in real-time without face-to-face interaction.
Mobile apps also support gamification through which attendees can earn points and awards for doing certain actions such as checking into specific sessions, completing digital scavenger hunting tasks, and generally participating in certain online events.
Mobile networking features like app messaging provide a social space for the event attendees, speakers, and exhibitors to interact and network quite easily. For example, attendees can specify there and connect with others who have the same interest using mobile networking features.
Mobile event apps also promote faster and more efficient communication in a virtual setting. Event organizers can easily communicate with attendees and send important information and updates using push notifications on a mobile event app.
Virtual event planners can also use mobile apps for monetization by converting live event sponsorships into digital sponsorships using print options such as push notifications, sponsored posts, premium listings, and product brochures just to mention a few. A sponsor can even sponsor a specific activity or session simply by adding a logo to the session in the mobile app.
Security Features
Security is another important factor to consider when evaluating a virtual event platform. Remember that as an event planner you are fully responsible for protecting the private information entrusted to you by the event attendees and stakeholders.
It is your responsibility to ensure that any sensitive information collected in the event does not fall into the wrong hands. Unfortunately, we live in highly insecure times with an unprecedented surge in cyber-attacks and hacking attempts.
The shift from in-person to online events due to the coronavirus pandemic has created a worrying disregard for security and privacy. In fact, virtual events pose a significant challenge to data security.
The good news is that using the right technologies provided by the best virtual event platforms, planets can easily mitigate data security risks and cyber-attacks.
So, before you choose a platform to host your virtual event make sure that it provides the following cyber security safety measures:
It is highly probable that most of your event's attendees will be connected to the event straight from their home network which typically has inadequate security. For instance, a majority of people today do not bother to change their router's login credentials or the security keys of their wireless network.
They simply use default values whenever they are connected to the internet. It is also quite possible that some of your attendees are connected to your event through wireless hotspots which can easily be compromised. Security is a key priority.
The platform should provide end-to-end encryption to ensure that even if eavesdroppers and other people with ulterior motives can access your network, they will not be able to decrypt, understand, or even use the transmitted data. The data is encrypted at the source and will only be decrypted when it reaches the intended recipient.
Use of Cloud-Based Technology
A major data security challenge facing most companies today is the availability of many potential points of failure in the network infrastructure.
For example, every end-user device, user account, protocol, and software is an entry point into the network and subsequently an entry into the virtual event.
With a cloud-based event management platform, you can more effectively ensure that there will be no data stored on the devices that your attendees will be using to connect to the event.
The cloud-based event management platform will also help event managers to keep all data including recorded audio, video presentations, and instant messages on a single secure platform.
Global Regulations Compliance
Almost every company and organization today operate using third-party software.
It is therefore important to ensure that every software provider and virtual event platform that you use is carefully vetted and proven to comply with global regulations on data security. The software you use must meet the compliance demands of the industry.
The content distributed in your event including your internal policies should comply with data regulation regimes search as the California Consumer Privacy Act (CPA) and the EU General Data Protection Regulation (GDPR).
These bodies work to protect the privacy of internet users on both digital and physical platforms.
Steps on Hosting the Best Virtual Event Possible
In recent months, the use of live virtual events dramatically rose, and we're seeing various ingenious ways in making successful, audience-centered, and inspiring virtual events.
The challenges that the coronavirus (COVID-19) pandemic brought to the global events industry made hybrid and virtual events a critical part of doing business.
When planning a virtual event, there are several different questions that arise with this brand-new way of working.
Are there ways that can make virtual events easier for event planners and the participants to navigate? How can one plan a virtual or hybrid event that has relevant content?
How can one make sure that the virtual event is interesting and engaging? What makes virtual events successful?
Here are the steps that will help you plan your next virtual event.
Understand Your Audience
Being fully aware of the needs and expectations of your audience is key to planning a virtual event. It's best to explain your goal for the event without making it sound like a sales pitch.
In doing so, you will secure human connection with the participants who are isolated in their respective homes.
It's crucial to remember the fact that with virtual events, the audience can just log out from it at any time. Provide reasons for your attendees to finish the entire event, stay engaged, and try to participate.
The questions that you should ask yourself to understand your audience better include:
Is your audience more likely to take part in virtual events?
Is the technical knowledge of your audience strong, including the use of internet and social media?
What types of offers will your audience respond to positively e.g. discount codes or raffles?
How long will your virtual event have to be in order to portray your message while the attendees are engaged?
Make sure that the virtual event you are planning is relevant to the target audience.
Assess Why You're Hosting a Virtual Event
Virtual events are significant investments, which is why defining realistic and finite business objectives and goals is imperative.
In marketing, these are referred to as (KPIs) Key Performance Indicators.
What do you want to achieve from the virtual event?
What type of revenue are you expecting?
Is it boosting company sales, attracting elite professionals, increasing your number of subscribers, increasing registrations and sign-ups to your community, or increasing awareness regarding your products or brand?
List down your unique KPIs. Design your presentation and content around them. When you're holding the event, don't forget to compel the audience into taking specific actions which can help achieve your KPIs. Elements that allow your audience to perform the desired action are referred to as a call to action or CTA.
Decide on the Content
What is the form of content which can justify having a virtual event and compel the audience? Here, 'content' does not mean the one that goes up the screens of the participants.
It's everything that the speakers say during a session, the media formats used in conveying specific information, and what the participants see on their screens.
Be warned that the kind of content which works for in-person events won't necessarily work with virtual events.
Here is a checklist of the questions that will help you get a rough layout of your content:
Will the audience prefer an event to last an entire hour, day, or several days?
Does it have to be a series of different events or just one single event?
What are the key subjects or topics that should be discussed during the virtual event?
Is there a need for multiple speakers? If yes, what is the kind of format that will suit the event best?
What level of interaction is best for the audience and how should it be provided?
What kind of content does your target audience like e.g. infographics, real-time tools, videos, slides, etc.?
The more engaged the audience is, the more they'll comply with a CTA. This results in more revenue you'd generate even from just one event.
Make sure you fortify your virtual event with a solid content plan which would offer the participants the best experience possible and help sponsors gain the desired results.
Select a Format for the Virtual Event
There are various ways for you to host your virtual event. These are the primary ones that you can choose from:
Webinars: With a webinar, you can hold a presentation online and in real-time. Webinars can be shared and then reviewed afterward. You can think of webinars as classes or workshops happening online where participants are encouraged in asking questions. There are several different webinar platform options, but make sure you stick to the ones that are readily available for your audience to access.
Social Livestreams: The majority of social media platforms nowadays comes with the live video feature. For live streams, you're able to improve your chances of engaging with a huge audience. Live streams, in general, drive more engagement in comparison to regular videos as live streams can show comments and the attendees. The most popular platforms where you can go live include Facebook, Twitter, TikTok, LinkedIn, Instagram, and YouTube. Try as many platforms as possible to reach an even bigger audience.
Networking and Conferencing: Use platforms that offer a more sophisticated set of tools. Interactive features are a must such as live Q&A, polls, and chat rooms.
Hashtags: You can start an online discussion by using hashtags in asking questions. There are several tools available to do this including Slack, Twitter, and Reddit.
Social Stories: Social media stories can also be used in starting online discussions. Social media networks have social stories as a feature. Stories offer a great platform for sharing visuals, messages, and videos for a broad audience. What's great is they are instantaneous and they offer customizability using special effects, stickers, and filters. More importantly, they can be used in asking questions and conducting polls.
Consider Getting Sponsors on Board
If you are planning on having a large-scale virtual event, you'll definitely need another source of revenue. This revenue can come through sponsorships.
Sponsors for corporate events, including product expos, conferences, and award shows, are considered the backbone of in-person event budgets. The same is true for virtual events.
If you want sponsors to put money into your virtual event, create a sponsorship plan based on these questions:
Which businesses are interested and relevant to sponsor the virtual event?
How can the event help sponsors achieve their own sets of KPIs?
What are you able to offer which will attract potential sponsors?
What are the targets of potential sponsors?
What platform for virtual events will offer sponsors the best experience?
How do you facilitate attendee-sponsor interaction without imposing it on the participants?
There are platforms that allow you to create virtual sponsor booths that have videos, logos, and graphics where sponsors can offer discussions and demos to the interested attendees.
In addition, they also allow you to collect analytical data regarding booth visits and the leads generated in tracking sponsor performance.
Maximize Audience Reach
One of the major advantages of hosting virtual events compared to in-person ones is the audience reach, which is limitless. Brick-and-mortar venues are limited by their capacity and geographic distance.
As for virtual venues, they allow attendees from across the globe to join even up to a million at a time. Of course, there is a challenge and that is reaching the right audience by utilizing proper channels.
Before you start going haywire with the paid promotions across several different social media platforms, create a cost-effective, targeted marketing plan.
You can do so by answering the following questions:
How updated is the niche audience online, especially on social media?
What are the types of content that will surely grab their attention?
What are the social media channels which they frequently use?
Based on the audience limit that you have set, how much money can be allocated on online promotions?
To make sure that your audience is able to attend from multiple social platforms aside from your virtual event platform of choice, arrange live streams on different platforms like Instagram, Facebook, YouTube, etc.
Choose a Platform
Most success-driving factors for virtual or hybrid events can only be attained through a platform that's decked with the essential features.
Here is an essential yes or no questionnaire you can use to crosscheck when assessing different virtual event platforms:
Is the platform appealing and interactive enough to keep the niche attendees engaged?
Has it been integrated with a specific event format, live-streaming features, promotional channels, and tools for audience engagement that you plan to use?
Does it allow the highlighting and strategically placing sponsors throughout an event?
Does it let the speakers and the attendees communicate seamlessly and in creative ways?
The success of virtual events depends largely on the audience and the experience that it offers.
Make Sure the Event is Easy to Access
As with any other type of event, you need to ensure that your virtual event is easily accessible.
Naturally, virtual events are much easier to access as there is no need for the attendees to travel. But, there are also other factors that you need to take into consideration.
For instance, you need to:
Ensure the Convenience of Your Event's Schedule: Make sure that the time and date of the virtual event are convenient for the majority of the target market. If you are expecting to have an audience from across the globe, make sure that you share the time the event begins in different time zones.
Test the Reliability of the Platform You'll Be Using: It has to be both easy to use and access. Some online event platforms are hard for people to download. This can be a huge turnoff for participants. Make it easy and hassle-free for participants to access your event and consume your content.
Price It Right: If you will charge fees for access to your virtual event, make sure that they're low as attendees often expect that they will be paying less for virtual events. Price appropriately and remember to highlight the value that they will get if they buy a ticket.
Now that we have covered all of the fundamental steps you need to take, use them in guiding you in the right direction as you execute your painstaking task of hosting a successful virtual event.
Just remember all the information we shared with you and you are all set! It is possible that things may not exactly go as planned, so improvise midway through the plan.
Create Memorable Virtual Event Experiences
Good platforms are committed to making the entire journey of your virtual event, from registration, marketing, and content management to the actual hosting a fulfilling and memorable experience both for the event planner and event attendees.
The platform is designed to drive engagement by combining your live-streamed content with their engagement tools such as scheduling, Q&As, and networking.
The platform is easily accessible from any location in the world. Your virtual event attendees will stay connected via either their desktop browsers or a mobile device app before, during, and after the event.
Everything You Need to Host an Impactful Virtual Event in One Place
Virtual event platforms provide you with everything you need to hold impactful and memorable virtual events as well as hybrid events, webinars, and other forms of live events.
They have easy-to-use solutions for all your event management, event apps, and live streaming needs. The goal is to help you execute your unique type of event successfully.
The platform provides you with a robust technical virtual event platform designed for the complete event journey. They give you tools for every stage of the event to deliver the best experience possible for all your attendees across multiple channels including virtual, live, hybrid, and mobile.
They also provide flexible branding because they believe impression matters. The platform provides a wide range of customization and branding options designed to suit your industry.
They also understand that branding goes beyond simple changes in your logo and color scheme but also includes the use of unique graphics, GIFs, and backgrounds to enhance both the event and the sponsor's company.
Ease of Use
Online virtual event platforms take pride in being of the most user-friendly and easy-to-use virtual event platforms on the market today.
They are designed for the fastest, safest, and easiest onsite check-in experience. It is not only easy to set up but also features contactless check-in solutions that can be integrated into your registration forms seamlessly. Say goodbye to complex and tedious excel sheets and uploads.
They have the technology and know-how to help you deliver your content seamlessly to your audience from anywhere and anytime. You can go live on webcam, steam pre-recorded or on-demand content, or on a live stage and they will get your presentation straight to your audience.
The platform takes pride in having industry-leading mobile apps to connect to all your event attendees wherever they are. They have efficient AI-powered networking solutions to connect you with your audience on mobile or even integrate built-in gamification and other engagement features to make your event a memorable experience to your audience and a huge success to you and your sponsors.
24/7 Active Support
Customer support is a critical function in any virtual event platform you choose to host your event.
A dedicated support team should be there all round the clock to help you make your event a success.