Can DIY website builders help your website scale the search engine rankings? Even a couple of years back, the answer would have been no. But all that's changed. The current lot of SEO friendly website builders is equipped with highly intuitive and efficient SEO tools. These enable you to perform both basic and specialized SEO tasks on your own.
With the best website builders for SEO, you can:
Create an appealing, highly responsive website design that delivers a satisfying user experience across different devices.
Utilize the ideal header tags, title tags, meta descriptions and image alt tags for improving on-page SEO.
Edit the URLs of individual pages to include the relevant keywords.
Link your website with web services such as Google Search Console and Google Analytics and enhance your site's visibility.
Integrate your website with social media channels to improve your business' visibility and reach.
The top website builders for SEO right now (and for the next several years)
1. Wix
Wix is an easy-to-use website builder with a clear focus on SEO and marketing. Wix places its handy assortment of SEO tools front and center – at the dashboard itself. Using these SEO tools is just like using any other Wix feature. You don't require coding knowledge or prior experience of working with SEO tools. Wix's starter plan is priced at $14 per month.
Best SEO features:
Wix websites are intuitive and fast loading, with an uptime of 99 percent.
You can edit and optimize the meta titles and descriptions of individual pages.
You can customize the URLs of individual pages to include the top/most relevant keywords.
You can include alt text for each image, as well as canonical tags to every page of your website.
Automatically generated robots.txt file informs the search engines of the most efficient way to crawl your site.
Wix creates an XML sitemap to provide search engines with a list of the site's most important pages. Having search engines crawl your site's essential pages will help improve its visibility and ranking.
2. Squarespace
If you have decent knowledge of SEO and are looking beyond the entry-level features, choose Squarespace. Squarespace includes plenty of non coding SEO tools, all of which are neatly formatted and simple to use. It also allows you to include your own code and better customize your website. The starter plan is priced at $12 per month.
Best SEO features:
Every page of your Squarespace website has a dedicated configuration box that allows you to customize its URL. The configuration box also lets you add customized meta titles and descriptions to each page.
The names of image files function as their alt text. This gives the search engines a better understanding of the images' content.
You can submit your website's listings to top search engines such as Bing, Google and Yahoo. This allows you to improve your site's ranking on all popular search engines.
Squarespace automatically creates an XML site for your website, eliminating the need for manually adding a sitemap.
3. Weebly
Weebly allows you to create a website that's fast, responsive, and ecommerce ready. You have the ability to customize the title and URL of all website pages, including individual product pages. Functions such as editing meta titles and descriptions and adding alt text can all be performed using the page editor. Weebly's basic plan is priced at $6 per month.
Best SEO features:
Weebly's App Center includes dozens of excellent SEO-centric These include tools to improve website traffic, add stylish HTML headings (h1 to h6) and grow your email list.
You can add customizable captions to your site's video content and enhance their visibility.
Weebly's SEO checklist helps meet the requisites of building a SEO-friendly It offers information on using each of Weebly's SEO tools without the need for seeking an expert's help at every turn.
4. SITE123
SITE123 allows you to build attractive, responsive SEO optimized websites that perform equally well on every device. It offers excellent, easy-to-use SEO tools such as a 301 redirect generator, site map, and plenty of exciting ecommerce features. The basic plan is priced at $12.80 per month.
Best SEO features:
Basic SEO functions such as customizing page URLs, meta titles, and descriptions are easy to perform.
You can integrate up to 25 different social media channels with your website.
SITE123 has some handy blogging features such as social bookmarking, RSS feed, and blog search. These help you utilize your blog content for improving the site's traffic and visibility.
5. WordPress.com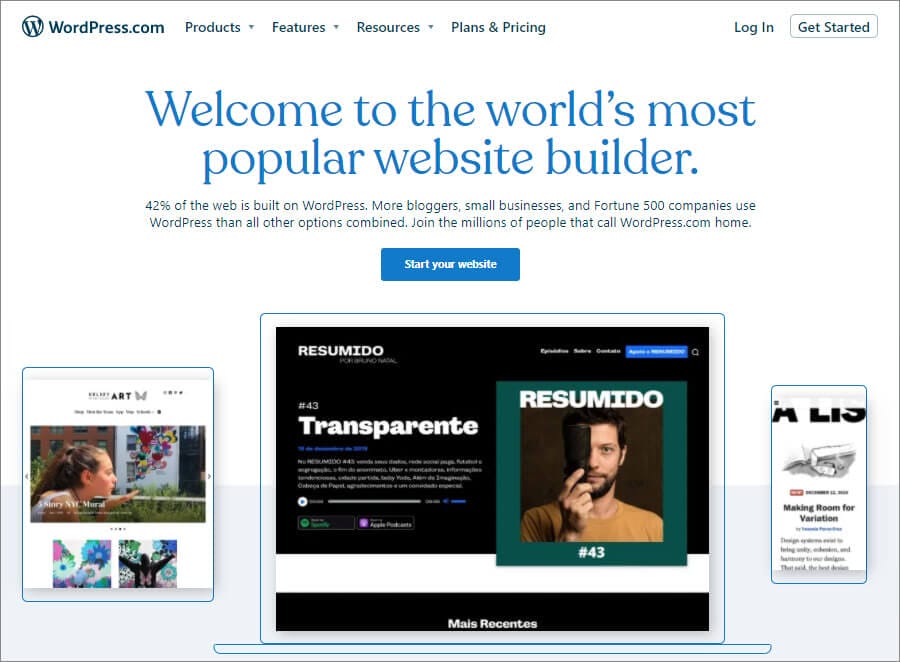 WordPress has a rich library of themes that have been specifically formatted for search engines. It allows you to customize the meta descriptions of individual website pages. You can also control the way the titles look like on the Search Engine Results Pages (SERPs). The starter plan is priced at $4 per month.
Best SEO features:
You can customize the URLs to create beautiful permalinks.
You can optimize your website's media content to ensure the site's performance is not impacted when the media is being played.
Quick and easy integration for Google Analytics and Google Search Console.
6. GoDaddy
GoDaddy's free-to-use Insights learning tool runs a thorough analysis of your website to suggest a suitable plan for improving your site's visibility and performance. You can track your website's performance from the account dashboard itself. The builder's paid plans have dozens of excellent SEO features, including personalized keyword suggestions and performance tracking.
Best SEO features:
GoDaddy's dedicated SEO Services provide free on-call consultations on everything from setting business goals to improving your blog's performance. This facility is available at $6.99 per month.
GoDaddy's SEO Wizard tool provides excellent, reliable keyword suggestions based on your responses to a set of website-related questions. This feature is available at $19.99 per month.
7. Jimdo
Jimdo is another simple and free SEO friendly website builder. Basic SEO operations such as customizing page URLs, meta titles, and descriptions are quick and easy to perform. Jimdo offers excellent, free knowledge resources to guide you through every step of optimizing your site. The basic plan is priced at $9 per month.
Best SEO features:
You can add SEO descriptions to subpages.
Customizable subpage titles.
Customizable homepage title.
Jimdo's Ranking Coach recommends a list of quick tasks to enhance your site's visibility.
Which one should I choose?
All these website builders include the basic SEO features necessary for building a website that can keep your business competitive for years to come. Wix makes it easier than others can manage. This makes Wix our top recommendation of an SEO-friendly website builder.
Take some time to compare these based on your website's SEO needs, budget, and your own SEO knowledge and expertise. That will help you decide on the perfect builder for your website.