Zoom Meetings Review 2022: Details, Pricing, & Features – While working from home, some of you must be familiar with this application. Zoom, as we all know, is the current leading platform for communicating virtually. It is a platform to host and join online events, such as online classes, meetings, webinars, and even conferences. Being the most downloaded application in PlayStore, Zoom has succeeded in raising people's curiosity which in the end, encourages them to download it. What actually makes Zoom so popular? What benefit does it offer for the user? In this article, we will do an in-depth review regarding Zoom. Not only the upside but also the downside of it. So, without further ado, let's get to the review.
Key features
Zoom lets you host a meeting with over a hundred participants to join. Its main targets were primarily large enterprises, such as financial services companies, government agencies, telecommunication providers, and other big companies. However, now almost every person can enjoy the benefits of Zoom's features in communicating at a distance, whether it is working, socializing, or learning. Based on its website (zoom.us/features), Zoom offers some easy-to-use features while interacting with your peers. These features include:
Virtual background, which lets you choose a different background during the meeting.
Calendar integration, which allows you to schedule a meeting and invite people instantly.
Waiting room, which lets you identify who comes to your meeting and provides extra security.
Multi-share, which enables you to do screen sharing for multiple people at a time.
Personal meeting room, which allows you to host a virtual meeting and customize the room on your own.
Touch-up my appearance, which provides a quick virtual touch-up to make your face look more fresh on the camera.
Best quality of video meeting and screen sharing.
Sending texts, audios, images in a group chat.
Safe driving mode.
Joining a webinar as an interactive or view-only participant.
The feature which enables the user to share screen is very helpful during a meeting. It also has a hand-raising button to make a discussion gone well. The newer version which fixes the minor bug will prevent the app from crashing, so it is very unlikely for Zoom users to experience crashes while using it.
Another helpful tool is the virtual background, which enables you to set any images as a background during the calls. This can be an alternative when you have no time to tidy up the mess in your room. There are many default backgrounds provided by Zoom that you can choose, for example, San Francisco, the grass, or even the earth one. However, if you find that these backgrounds are not realistic enough, you can customize your own background. This feature works better when you have a green screen. You can also use your own company logo for branding purposes in case you're having a company meeting.
For those who always show up late in a meeting or any event, the touch-up my appearance feature may work well. It is a face filter that gives you a fresher look and camera-ready kind of effect.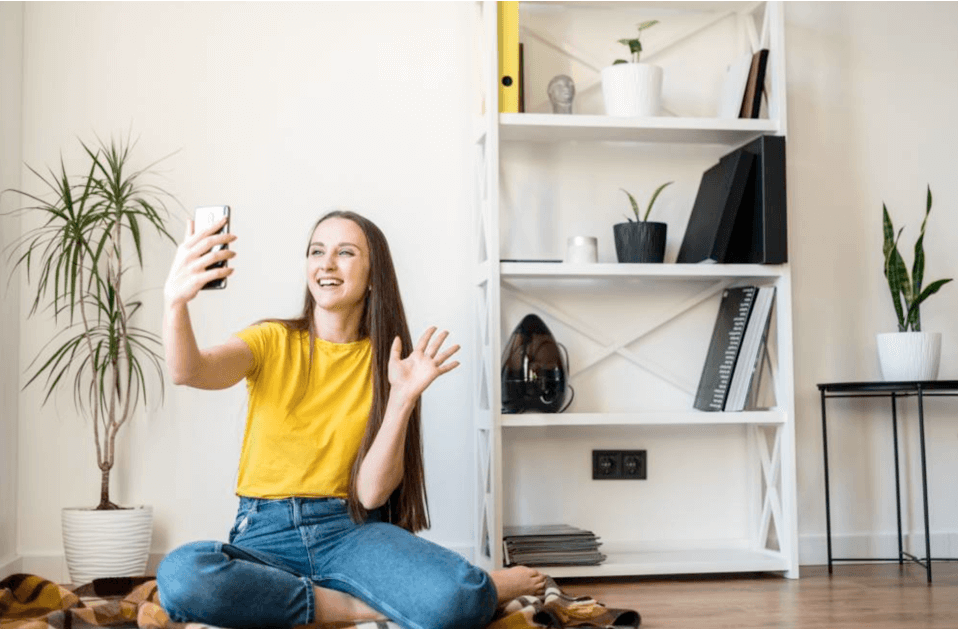 User experience
First released in January 2013, Zoom has evolved in many ways. As the number of people who work from home increases during the global pandemic, the number of Zoom's daily meeting participants also reaches a significant increase, from approximately 10 million last year to more than 200 million this March 2020.
Designed with a user-friendly interface, anyone can operate Zoom without any trouble. Hence it nearly doesn't take long for new users to learn how to operate the app because the interface is as simple as that. This platform is also compatible with Windows, Mac, and Android, meaning that you can easily use it on your desktops and mobile devices. The installation process is reasonably fast, and for the mobile application, the download size is not too big, which means that it doesn't take up much space on your device.
You have to download a package of the app if nothing pops up on your browser once you made an account. However, the app is more effective to use as you no longer need to go to their website in order to host or join a meeting.
For the host, the user interface is pretty simple; there are functional buttons to mute, stop the video, invite, manage participants, share screen, chat, record, and react in a meeting. To invite people, you can just click on the invite button and choose the contact or email service you want to use. For a more effective way, you can simply copy the URL and the password, then paste it. Once someone clicks the link, the person will be redirected to the page. Being a host also enables you to manage the participants—you can mute or unmute all participants anytime, and control the chat room.
The record button gives you the ease of documenting your event or meeting. Once you've stopped the video, the recorded video will turn into an mp4 file which you can instantly share. The reaction button lets you give an appreciation to the speaker. It comes with a thumbs up and claps that will appear during the speaker's presentation. If you want to end the video, you can leave the meeting for all, or you can let the meeting continue without you.
In terms of quality, Zoom gives you the clarity in both picture and sound during a video meeting. It offers a high resolution as in 720p for video calls for all purposes. If you want a better resolution, the larger video quality (1080p) is also available in the paid plan.
Privacy and Security
Anyone who relies on a video conferencing platform to communicate would want to keep their data secure, especially large companies and governmental institutions. As the number of users increases during the coronavirus pandemic, Zoom has been facing a lot of privacy and security issues recently. These controversies include sending users' data to Facebook, Zoombombing, tracking attendees, etc. Many people also believe that Zoom has end-to-end encryption, which in reality, it doesn't. These issues have been addressed seriously by Zoom, and in the near future, they are working to improve their security system.
As for now, Zoom provides some features to increase its security, such as
Waiting room
Preventing private chat with members outside Zoom account or organization
Reporting a user
Indication of external user
Better encryption
More of these issues will be further discussed in the last topic.
Zoom Pricing and Plans

In terms of pricing, Zoom offers several plans for the paid features because sometimes, the basic plan which is free is not enough. Depending on your need, there are many available options that you can buy, such as cloud storage, rooms, audio plan, and other options. The range of the price is between $10-$100 per month. These paid plans are quite helpful in ensuring that the users get the facilities needed. Moreover, if you're hosting a large event, it is necessary to give your attendees the comfort of participating in your event by making use of the paid plan features. These features include pro (for small teams), business, enterprise, video webinar, cloud phone, conference rooms, and add ons. For more information regarding the price, you can visit their website (zoom.us/pricing).
Performance and Data usage
As for the performance, Zoom works very well in a stable internet connection and provides a high-quality resolution in a video call. It has an easy-to-use interface which allows the user to navigate the app effortlessly. For the basic plan, it comes with limited time group meeting (40 minutes max), up to 100 participants, unlimited one-on-one meeting features—all free. Meanwhile, for the paid plans, it can support more participants, more meeting duration, admin controls, schedules, etc.
For a 1: 1 video call, Zoom requires between 600kps and 1.8Mbps, as stated in WhistleOut's article (https://www.whistleout.com.au/Broadband/Guides/How-much-data-does-Zoom-use). Regarding how much data you spend on a call, it really depends on the video quality that you want. For a high-quality resolution, it will spend about 540MB per hour in total (270MB download and 270MB upload). The data usage will increase when you do a group video call. It spends about 810MB in total for an hour group video call (450MB download and 360MB upload). An alternative would be turning off your video during a call, in case you want to spend less data.
Zoom for Online Class (Online Meeting)

Joanne Kaminsky, as a teacher, compared Skype and Zoom in terms of its features for teaching purpose in her video (https://youtu.be/Lfq_bQEJluY). There are some features in Zoom which are very helpful for teachers in explaining their material. Compared to Skype, Zoom has the whiteboard feature and annotation tools that allow teachers to draw and highlight on the screen while explaining, and also an audio sharing feature, which enables them to share a video without having to unplug their headphone in order to maximize the volume of the laptop so that the students can hear the audio.
Another feature that helps is the 'schedule a meeting' feature. It lets the teacher create a room for students so that they can join the class without interrupting the teacher since in most cases, the students interrupt their teacher by calling them while they're having another session with other students. This is one amazing feature that Skype doesn't have, and many teachers like it because they no longer need to answer calls from their students while they are still having another class with different students. In Zoom, it gives the teacher enough time to prepare the session with the help of the 'waiting room' feature, which allows students to wait until the other person is ready.
You can break the students into groups and split them into different rooms. It also enables you to visit them one by one in order to monitor their progress, and then gather them back again. This feature called 'breakout rooms' makes it feel like you're having a class in a regular classroom. Another good thing about Zoom is that it doesn't bother the meeting when there is an internet glitch on someone's device. The meeting can still go on and the person can easily reconnect and join the meeting again. Meanwhile in Skype, when there is a trouble with the internet on either side, it would end the call, which makes it difficult to run an event smoothly. In fact, in a poll conducted by a Facebook group which supports online tutors, 67 people prefer Zoom, while 15 people prefer Skype. With these supportive teaching tools, it would make both teacher and students feel comfortable in online classes.
Zoom for Webinars (Zoom Webinar)

For online seminar or marketing purposes, Shane Melaugh from activegrowth.com has reviewed that on a video (https//youtu.be/cF-NGQk9rlY). Zoom has the option of making the webinar on-demand and recording the session automatically. Polls and Q&A are included in the main features for webinar. You can let the attendees upvote and comment on the question which makes the session more interactive. The main difference of meeting and webinar in Zoom, aside from the Q&A and polls, lies in the fact that the regular group call meeting allows every person to mute and unmute themselves, which makes them equal in terms of feature. Meanwhile, in a webinar, the host has the power to mute or unmute attendees, and take control of other features as well.
The minus point on Zoom, however, is the flying blind problem on some features, such as screen sharing and polls. The user interface changes once you share your screen, so it might be a bit confusing, not knowing what appears on the audiences' screen when you do that. Another negative side is that Zoom has quite expensive prices for holding a large-scale event with a lot of audiences. The price increases significantly as you add more participants. Also, it is lack of marketing features as it only has Q&A and polls for keeping the audience engaged. While you can find a lot of engagement features in other webinar platforms, the lack of these tools in Zoom just shows that it mainly isn't built for webinar kind of purpose.
Issues
As mentioned in BBC (www.bbc.com/news/amp/technology-52133349), Zoombombing is the recent issue found in this platform, which is said to be caused by its high demand during the lockdown period. This phenomenon is marked by the appearance of uninvited guests joining the video calls for inappropriate purposes. Because of this too, many government and companies, for instance, the UK prime minister Boris Johnson, CEO of SpaceX Elon Musk, and NASA warn their staff to be careful when using Zoom for video conferences. Due to its security issues, they are afraid to risk any sensitive information leak into public.
Another issue found is that Mac users are prone to have their microphones and cameras hijacked. This problem was first identified by Patrick Wardle as the ex-NSA National Security Agency hacker.
In response to this, Zoom has taken an action to focus on fixing their privacy and security issues, and postpone their development of new features for the next two months. Eric Yuan, the founder of Zoom, has spoken some words regarding the issues in their blog post (blog.zoom.us/wordpress/2020/04/01/a-message-to-our-users/), and he deeply apologized for the inconvenience that occurs to the users. For the past few months, Zoom has been working to deal with the issues as quickly as possible. Starting from guiding the users about their protective features to updating their privacy policy. So, it is hoped that in the near future, their team will be more responsive in handling such problems.
Conclusion
Overall, Zoom is remarkably a reliable platform for hosting and joining an online event, as it brings you seamless communication with many rich features you can use. Despite the controversy, we would recommend you to use it for online meeting purposes.
Positives:
Great audio and video quality
Simple and easy-to-use interface
Provides great teaching tools
Very helpful for people who are not camera-ready
Rich features
Negatives:
Privacy and security issues
Overpriced for webinar
Lack of interactive features for webinar and marketing purpose
High data usage for a video call