Summary
A major architectural shift in how security teams will protect data is underway, and Cloudflare is leading the transition.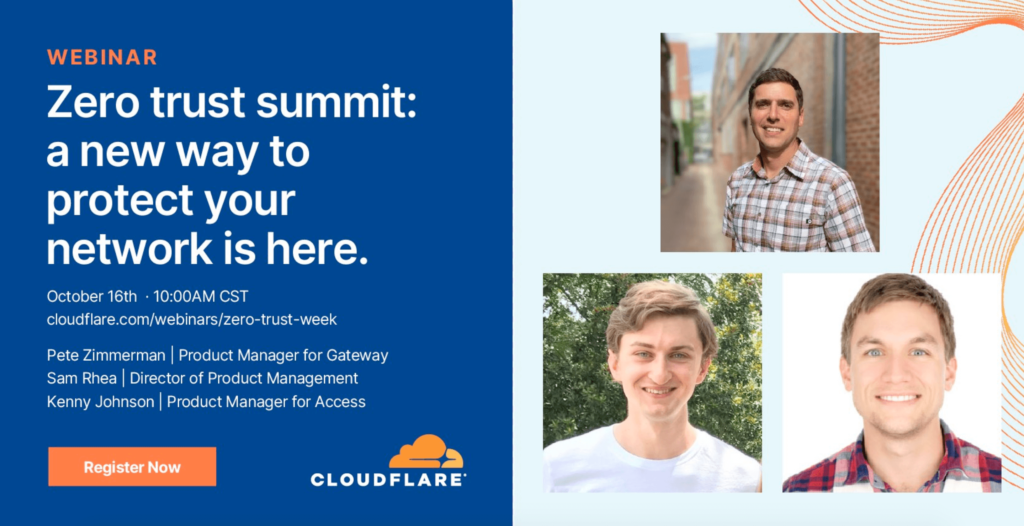 Start Date: 
Fri, October 16, 2020
Fees:
Check the site

Event Type:
Webinars
End Date:
Fri, October 16, 2020

Contact Information:
–

Website


Facebook


Twitter


Youtube

Event Location:
Virtual
Event Categories:
Technology

Time:
10:00 AM CST
Attendee Numbers:
–
Event Description
Join us for a technology summit on the future of Zero Trust security. Attendees will get an exclusive first look at all-new Cloudflare for Teams capabilities that will help organizations of all sizes protect corporate data without compromising on speed or performance.
This is the keynote event of Zero Trust week, a week of surprising new product launches focused on helping you embrace Zero Trust security posture.
Featured Speakers:
Sam Rhea – Director of Product Management
Pete Zimmerman – Product Manager for Cloudflare Gateway 
Kenny Johnson – Product Manager for Cloudflare Access 
Agenda:
Introducing a new vision for Zero Trust security on Cloudflare's programmable edge network
Live demo: trust no connection – new ways to secure Internet traffic from managed or unmanaged devices
Live demo: getting started with Zero Trust access to SaaS applications
Q&A
You might ask where to promote events for free. Our website will answer your doubt. We promote event for free with easy and enjoyable step.