If you're looking for tips on how to host an online event, you've come to the right page. Hosting an online event can be quite challenging when you've just jumped into the bandwagon. In this stay-at-home era in which holding any event that involves physical human-to-human interaction is nearly impossible, some people begin to make good use of digital platforms as an alternative. Moving into a virtual way of communication might not be as bad as it seems.
As the virtual event has reached its popularity at the moment, there must be a lot of competitors headed your way. If you're planning on joining the hype, these few tips might be helpful for your preparation to host an online event that will please your attendees.
Decide the platform
First thing first, always decide what platform is suitable for your type of event. Whether you plan to have an online meeting, online class, or online seminar, try looking out for a platform with features that can support your needs. Below is the list of the best platforms that you can use to host your virtual event:
Currently leading the market for its title as "The Number One Top Free App", Zoom allows you to conduct a remarkable online meeting consisting of up to 100 people with its easy-to-use tools and high-quality resolution.
With over ten million downloads in Playstore, this app certainly fits your need to connect with your peers and run any meeting virtually. It has great reviews from the users as well.
Besides sharing images and videos, Instagram also comes with the live streaming feature that enables its worldwide users to interact and even promote their products online.
Appearing in the form of a website, vFairs offers a reliably effective way of hosting online events, such as job fair, exhibition fair, housing fair, trade show, and other large-scale events.
If you are students or lecturers, you must be familiar with this app. Developed by Microsoft Corporation, this app lets you hold meetings and online classes in a cost-effective way.
Make sure that everything is prepared thoroughly
Before hosting your virtual event, it would be nice to have everything fully prepared. From content to technical equipment, here are some important things you need to double-check before the event to ensure that your attendees will not get disappointed once they tune in.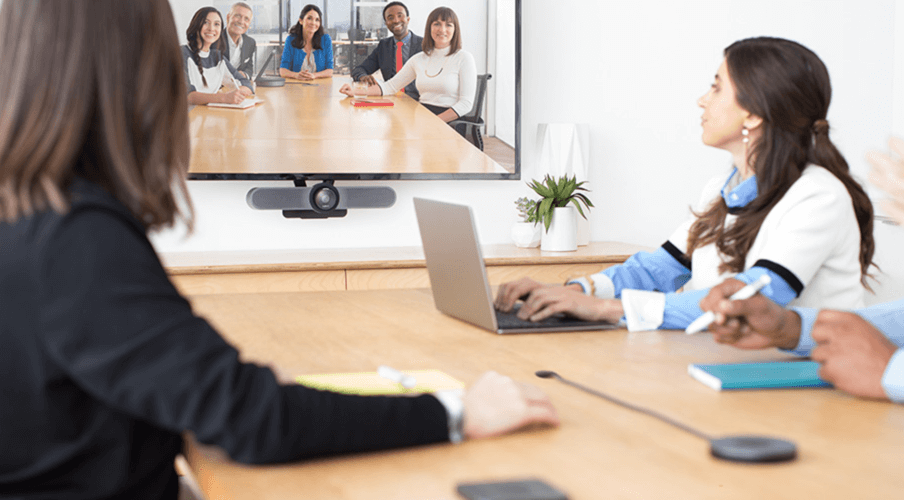 When you conduct your event virtually through a digital platform, internet access is mainly required in this process. Having a stable, good quality internet connection is a must during your event, especially when you're going to make a big one.
Microphone and camera quality
Being the virtual events starter pack, these two types of equipment are highly essential when it comes to virtual events. Provide your event with a high-quality microphone and camera to make the best virtual event experience to your attendees.
Additional tools such as graphics or slides
While holding an online seminar, you might want to put some presentation tools, such as graphics or slides. In a survey conducted by Venngage which involved 400 speakers, it shows that 47% of the speakers use slides to make the attendees easier to understand their point, while 24% others use them to amuse the attendees. Create simple yet valuable slides if necessary. You can take advantage of the platform's feature to show your slides during your presentation.
Create a conducive atmosphere while running your event. In order to do this, make sure that your online event will take place in a tranquil location where you can't hear any disturbing noise. This way, your attendees would appreciate it a lot.
There is no doubt that people are going to pay attention to how the speaker looks from beginning to the end of the event. Although your event is shown in front of the screen, try dressing up as if you're experiencing the actual event. Also, don't forget to be confident!
Choose an interesting topic
Consider looking for a good topic before showing your event off to the public. It's better to know the topic that your target audience would love. You can figure it out by viewing a list of popular topics below.
If you're currently setting up a business or even running a small business already, it will be your chance to get the better of it by promoting your business through virtual events. For instance, if you have a cosmetic business, you might want to consider making a small beauty class online to promote your products. The same thing goes when you own a food business; you can try demonstrating stuff in cooking class to boost your audience engagement.
Now that students are unable to attend classes in person due to physical distancing, online education becomes the all-time solution. Depending on your target audience, you can hold an event that is related to education, such as an online seminar on how to get scholarships abroad, discussing and solving math problems with the expert, and other educative contents.
This category may take form in many fields, for example, comedy, music, art, etc. Let's take a look at the music industry. Billboard has just released articles reporting that more than 50 music festivals and tours are canceled due to the coronavirus pandemic. As a result, several bands and artists decide to do live streaming for the concert using digital platforms so that people can still enjoy their music while at home. Hosting your music event virtually may attract your target audience as well, especially teenagers.
Be in time
An important reminder for you, night owls: be early, no matter how lazy you are. Don't let your audience down just because you fail to be on time in your own event. Once you have told them to mark their calendars, save the date, and so on, you must not be late. Remember that in a virtual event, anyone can leave easily on their own in just one click, unlike in real life. So, please keep in mind that time management is very important in hosting an online event.