The 11 Best Virtual Gifts for 2022 – At the moment, a lot of events are rapidly transitioned into virtual due to the COVID-19 pandemic. For now, the sense of urgency makes virtual event become the temporary solution which replaces in-person event. However, it is also predicted that virtual events will not lose its demand in the near future. In a survey of 400 events and marketing professionals conducted by Bizzabo, it is reported that 92% of respondents intend to include virtual event into their event plan after the global pandemic. So, if you're planning to run a virtual event anytime soon, it really is a good investment.
When holding a virtual event, especially for the first time, it would be great to leave an awesome first impression on your audience. One of the ways to create a good impression is by giving a digital gift after the event. Unlike physical event which comes up with goodie bags and souvenirs as gifts, a virtual event doesn't rely on physical things as gifts. Even though your event is held virtually, you can still give a digital gift to your audience. Here are some digital gift ideas you can use for your virtual event.
Virtual goodie bags
If physical events have goodie bags, virtual events have virtual goodie bags. Just so you know, these virtual goodie bags are not literally bags. The bag comes in the form of an app or website that can be accessed via mobile phone and it may contain some deals, such as gift codes, online games, discount offers, entertainment, etc. It serves as an engaging digital reward and a powerful marketing tool for events of every size as it can be tracked easily to monitor the event's engagement and ROI. This form of gift is also eco-friendly since it doesn't waste any papers or printed materials. Some virtual swag bags providers are eventbaxx, Virtual Event Bags, RacePerk, igiftbag, and Offerz.me.
Video streaming voucher
One digital gift idea that will be pleasantly loved by your attendees is video streaming vouchers. During the pandemic, people tend to demand more entertainment at home. In fact, you can give your audience an electronic gift card which covers a monthly subscription of your chosen video streaming services, such as Netflix, Amazon Prime, and Hulu. After all, who doesn't love Netflix and chill?
Online course or workshop
Giving an online course or workshop as a gift is definitely a fantastic idea to pass the time. Besides, an online course might be a good choice to increase productivity while having self-quarantine. Depending on your topic and audience, you can give away a free online course voucher as a form of appreciation to your audience. For example, if your audiences are typically businessmen or entrepreneurs, you might want to give them an online marketing lesson as a gift. Some recommended platforms in the industry are Coursera, Udemy, and Thinkific.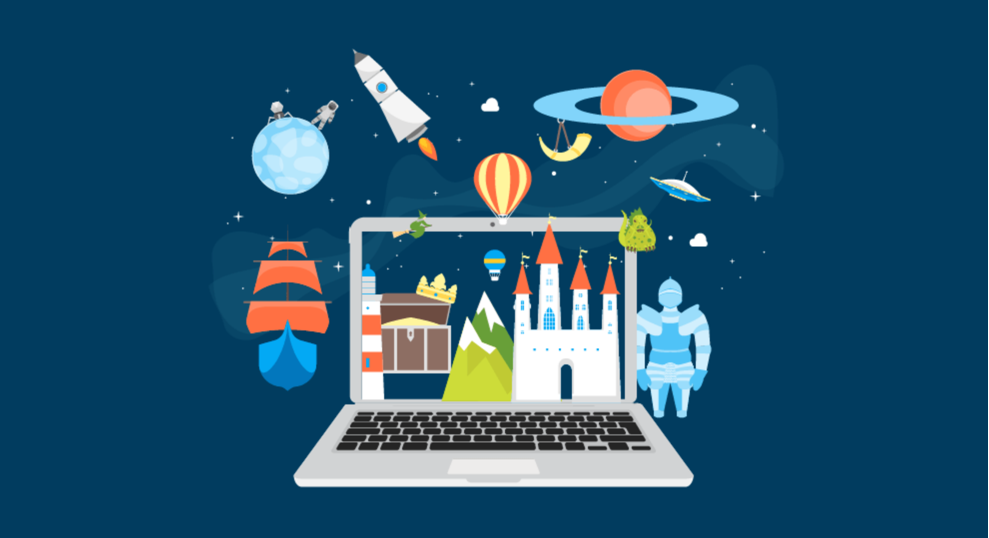 Discounted ticket
When you're not sure of giving them a gift that is not quite related to your event, one solution is to come up with the idea of giving a discounted ticket to your next event. Not only it serves as a way to boost the engagement of your brand, but it also minimizes your expenses since you don't have to pay for anything in addition. This can be your opportunity to enhance your brand image, especially if you've made a remarkable first impression in your event.
E-books and audiobooks
If you're holding an event that is mostly attended by bookworms, giving an e-book or audiobook might be a good idea. Learning a specific topic from books can give them new insights which may be beneficial for their personal development. Chances are your audience will be more likely to come back to your next event with pleasure. Amazon's Kindle Store and Barnes & Noble Nook Store are some of the best e-book stores with over two million book collections. Amazon also provides audiobooks in Audible in case you would like your clients to take their reading to another level.
Customized greeting card
Want to keep your gift simple yet memorable? Try sending a customized digital card. In order to make your company's very own personalized card, you can try one of these greeting card services, like Handwrytten, Paperless Post, and SmileBox. Who knows maybe your clients would acknowledge your good intention and would probably be interested in keeping up with your product or company.
Food delivery coupons
Aside from movie subscription, people's demand for food delivery services is also increasing due to the current situation which makes it difficult to eat out. However, some restaurants provide food delivery services that enable customers to enjoy restaurant food even though they're at home. These food services also come with a contactless delivery which ensures the customer's safety during the coronavirus pandemic. Examples of food delivery services that are widely used are UberEats, Grubhub, and Doordash. Giving food delivery coupons to your clients is definitely an interesting way to make them happy.
Video shoutouts
A lot of event planners tend to do video shoutouts as a form of appreciation to their audience. It will be even better when they have a celebrity or influencer to do it. Having a popular celebrity to give a shoutout to your audience might leave an unforgettable impression which can lead to a better relationship with them. One platform that is well-known for its personalized video shoutouts is Cameo. Starting from $5, you can get a scripted message from your favorite star.
Audio subscription
Another entertainment to lighten up your audience's mood on a daily basis, especially during quarantine is music or podcast. Consider giving your clients a premium subscription of popular music platforms, for instance, Spotify and Apple Music. A monthly premium subscription costs $9.99, and if you have a bigger budget, an annual gift card ranges from $99 to $114.
Charity donation
This type of digital gift lets you donate on your customer's behalf to help people in need. Alternative Gifts, a charity donation platform, offers gift-givers the ability to support less fortunate people around the world, from funding the donkey mobile library to providing shelter and food for struggling families. These small gestures from your company might create a meaningful impact on them.
Online workout classes
Giving an online workout class as a gift is a great way to show that you care about your clients' health. Nowadays, there are many platforms to help you exercise remotely through an app or website, for example Fiit, GymCube, and Beachbody on Demand. Worry not! These platforms are basically the Netflix version of gyms, so your clients can just relax and exercise.
Upon reading this article, now you know what gift might be best for your virtual event. People love freebies, but you need to remember that it is also important to communicate your brand values by delivering the best service to your clients. This way, they would feel much loved and appreciated. Of all those gifts mentioned above, which one is your favorite?