An event must be memorable enough to get more attention and exposure in the future. Especially for a corporate event that needs to maintain the relationship of the company and the audience. As an event planner, an option you can have is to give the best corporate event gift bag or swag goodie bag for your audience.
What is a swag bag for an event ?
Swag bag is a gift bag usually contain with items to complete the event. Swag bag takes important role in an event. It can be a strategic marketing tools or tools to delight and entertain the audience.
How this goodie bag will work for our event?
According to a study, up to 89% of attendees of an event will remember the name of the company that provides and gives gift bag for 24 months.
From the statement above, a single gift bag will bring massive effect to the perspective of an audience. A free product packed in a bag will keep the audience to engage with the event even the company itself.
To consider the best gift bag for your corporate event, here are some points to be considered.
A Gift Bag should Share Your Values
A gift bag is more than a free stuff given away for the audience of an event. What you give represents what values you have in your company. Every company should have values as their background business to help achieving the goal.
By sharing the values of the company to the audience through freebies, the audience will know easily know what things your company stand for. Select the stuff that represent your company in a handy stuff.
A Gift Bag must be Useful
Audiences love to receive free yet useful stuff on their bag. Picking random freebies for your event only lead you to a disaster. Bring stuffs that are useful for the audience during or after the event. Snacks or beverage will be the best gift bag you give during the event.
A Gift should be Interactive
The end of the event is not the end of the journey of your event. Don't let people forget your event after they walk away from the door. Make a gift bag as an interaction tools for you and the audience post the event. Choose stuff that leaves a sustainable effect of the audience's activity.
You can also print your event information or logo on the stuff to make it memorable for the audience. When they use the stuff from your event, they will think about it and it is the best marketing goodie bag ideas you can have. Among different party bag ideas, there is must be one of bag that suit your event the most.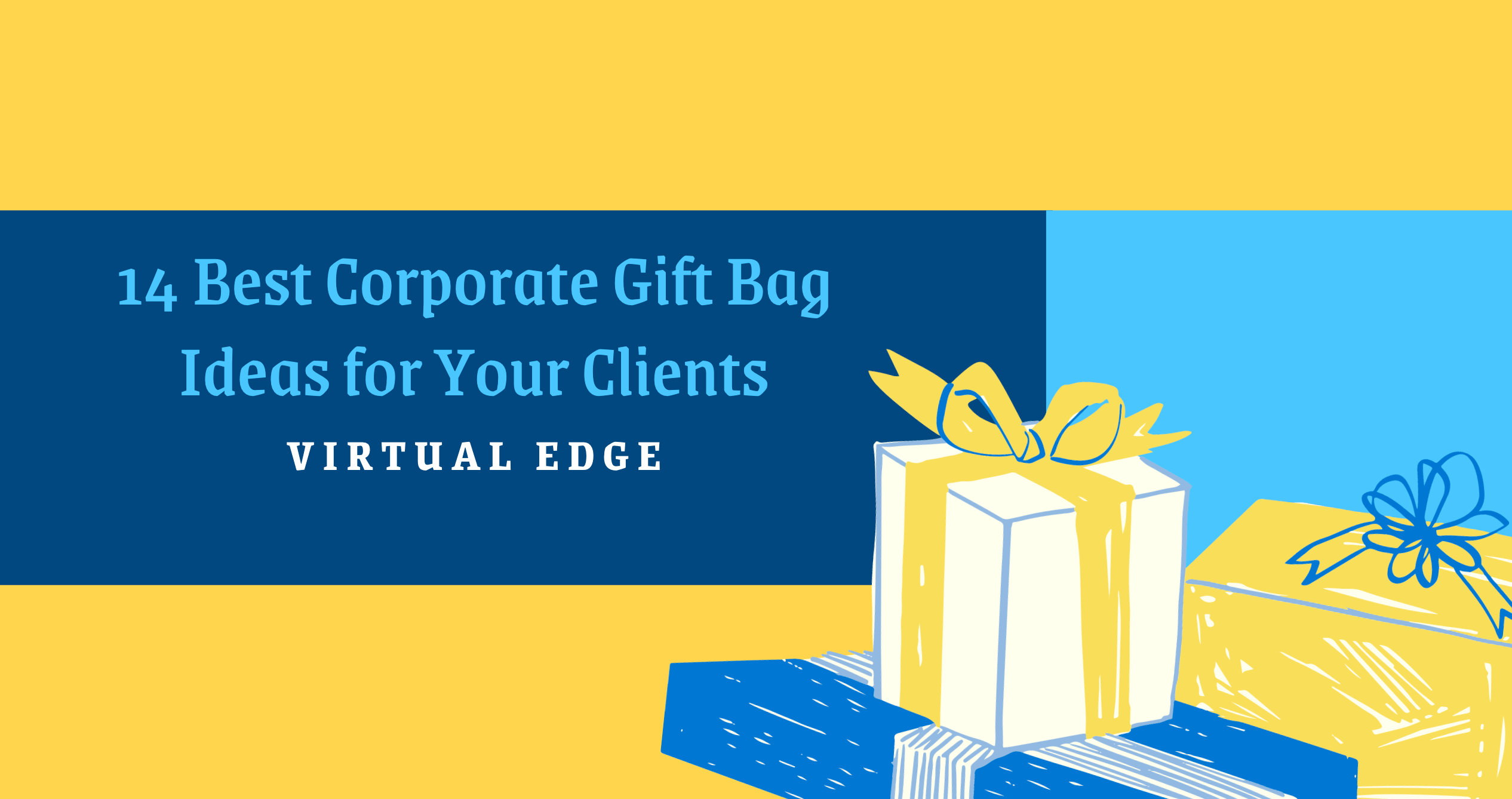 After knowing some points that should be considered for choosing gift bags, here are some examples of corporate gift ideas you can have to thrill your audience
Customized laptop sleeve
One of corporate swag bag ideas you can have is customized laptop sleeve. Along with the demand of laptop usage since the spread of Coronavirus, having customized laptop sleeve is such a good idea for event gift. A survey stated that the demand of laptop usage surge into 9% in 2020 from its initial number of shipments, 158.4 million.
Laptop sleeve can be a utilitarian gift for your audience. It leaves a continuously effect to support the audience activity, especially to make it easier and safer to carry their laptop. You can also add a small yet precious stuff such as elegant customized luggage tags or mouse pad to beautify the sleeve. This bag will be the best swag ideas 2021.
Portable battery packs and phone accessories
In this era, people are so mobile in doing their activity and one thing should be on their hand is their smartphone. Smartphone becomes essential thing to have since it is an efficient tool to communicate. Therefore, recharging a smartphone without connecting it to socket is highly needed for people. Your portable battery packs will be so much beneficial for your audience. They will remember your event while recharging their phone.
To make it not that simple, you can add some phone accessories such as pop socket and phone case printed with either the logo of your event or you can match the color of the stuff with your event theme. Adding a screen protector will make your gift bag complete.
Customized stationery package
This is one of swag bag ideas for employees you can have. Stationary stuff will be so beneficial for those who work in company. By providing high quality of stationary as a gift, the audience will put it on their desk office and it means you give the right gift for them.
What to put in the bags? You can combine sleek ballpoint pen, pencil, marker, and notebook or notepad. Stationery package is one of thank you goodie bags for adults to support their activity in office. Don't forget to print logo or theme of your event on the stuff.
Food and beverage
Food and beverage is never a mistake. During an event, brain needs food too to concentrate more. Therefore, this type of corporate event goodie bags is a match for pre event goodie bags. You can hand the goodie bag to your audience when they start to enter the event. Mix sweet and savory flavor to your bag. Then, what to put in goodie bags for adults? Alcohol or cocktail and some baked chips and salsa or brownies could be the best choice.
To wrap food and beverage into a pretty and sophisticated goodie bag, you can't just throw them in a bag and wrap it. You need the DIY gift bag ideas. You can wrap it as pretty as possible by wrapping it in a card box and tie it with elegant bow.
Corona starter kit
Coronavirus has become the threat for the world ever since the beginning of 2020. The idea of making corona starter kit goodie bags will be so beneficial in this situation. Here are some goodie back items for corona starter pack you can have. The bag can contain of medical or fabric mask, hand sanitizer, tissue, soap, and some vitamins to complete the item.
Sport goodie bag
If you have a sport event, sport goodie bag will be an exciting gift for the audience. Kind of event you can have is race event, football, basketball, and many other sport activities. Here are samples for race goodie bags and other sport event bags.
Put together a pair of socks, a tumblr, a sport towel, some energy foods & drink, and vitamins in a goodie backpack. You can add a colorful bag to lighten up the feeling of the goodie bag.
Self-care kits
A gift to pamper the audience will win their heart. Self-care kits contain of lip balm, moisturizer, lotion, scented candle, hand cream packed in a simple yet elegant container will win the audience's heart. Self-care kits is a perfect gift to manifest the ladies goodie bag ideas. Your audience will obviously love the gift. You can give the bags with photo to personalize the package, such as the photo of the product, photo of your company logo, or other photo that matches with the event.
Hampers
DIY gift bag ideas can be lived up in the form of hampers. For you who want to make a personalized gift for your audience, hamper is the right choice! You can adjust and create your hamper based on the season your event will be held. Let's take a look on spring goodie bag ideas. You can customize gardening hampers to bright your audience day.
Hampers could be one of inexpensive party favors for adults. You can personalize and custom the items and of course freely to limit the budget.
As the pandemic still live together with us, the event industry, especially corporate event pivots to virtual event to support the business activity. Now the event planner concentrate on how to give the best gift to the audience or the speaker in virtual form. Shifting a bulky bag into inexpensive swag bag ideas.
Virtual gift could be one of sophisticated party favors or alternative to goodie bags in a physical form.
The good side to have a virtual gift is that it could be beneficial for the event planner since it is less expensive yet still meaningful and useful for both the audience who has received the gift and the event planner. Here are some creative goody bag ideas for your virtual event.
Private Virtual Lessons
A thank you gift bag ideas you can have is a private virtual lesson. By giving this free swag bag item, your audience will have the chance to learn something new and fun such as music, art, data skills, computer skills, cooking skills, and many other lessons. You can also personalize any kind of lesson for every participant as they wish for. Private virtual lessons as gift bags personalized gift will never go wrong.
Video Streaming Membership
Video streaming becomes the needs of people since coronavirus forced them to stay at home. By the end of your event, giving one to two months of free video streaming membership to the audience will help them to access the video streaming platform easily. Some platforms you can consider are Netflix, Hulu, and Disney Plus. Different from Netflix and Hulu, Disney Plus is one of goody bag ideas for 9 year olds or above. You will 100% success to entertain your audience post the event.
Food delivery coupon
Leveraging technology to improve your event quality is such a must. Therefore, to make your event feels more alive like the physical even does, it is nice to provide food delivery coupon for your audience. You can give it to the audience during your event to make them happy with the foods.
Delivery service such as Uber and Door Dash will help you to bring the best food for your audience. Let them feel the excitement during your virtual event.
Virtual shopping coupon
Another free swag bag items your audience can have is shopping coupon. Who doesn't love to shop? People nowadays like to purchase things through the internet. Giving shopping coupon as freebies will enlighten the day. This one gift is one of great way to manifest gift bag ideas for ladies. Obtaining discount will absolutely cherish the day. Make sure that you give the right kind of coupon. If you have a beauty business conference, you can add make up coupon to the bags.
The kind of coupon gift could be the form of promotional goodie bags for both your event or company and your sponsor. Such a right marketing tool choice.
Online Course
Since the pandemic of Covid-19 has affected the life of human, the need of online learning through online course surge up to 200%, said a survey from World Economic Forum. Online courses can come in all shape and all need for its user. Numerous courses offered by the online course platform will suit every learning needs of your audience.
It can be one of items to put on goodie bag ideas for adults, teenagers, or children. You can cooperate with some platforms such as Udemy, Coursera, Skillshare, and many more platforms.
Free E-Book
If you need inexpensive swag bag ideas, you come to the right place! One of cheap conference gift bag ideas you can have is free e-book for your audience. Giving an in-depth e-book on specific topic, especially related with your conference, will help the audience to learn wider view and to understand more about the topic served.
This cheap swag bag items will leverage your event with a big deal. The audience will see the commitment and dedication you have to deliver the best material.
To complete the gift bags for your corporate event, you can add a physical or a virtual thank you letter for your audience. The purpose of giving a thank you letter is to appreciate the presence of the audience in the event. It can also be one of ways to keep the engagement between you and your audience. Give a touch of personalized content to make your thank you letter more special.