Best Happy Autumn Wishes and Messages – Autumn should not be a gloomy season. Instead, with the yellow and red hue in the air, it should bring the warmth to your life. Celebrate the joy in autumn by sending a gift to your friends, colleagues, and family. Don't forget to prepare some happy autumn wishes as well! Besides it will shoo away the melancholic nuance seeing the falling leaves, some gifts will also convey the warmth to your loved ones.
Happy Autumn Season as the Season of Warmth behind those Falling Leaves
Autumn may be a season that emerges the sad nuance as the leaves start to fall down and the weather feels a bit cold. This is understandable though, but instead of being carried away by such dismaying thought, why don't you celebrate this annual occurrence with something nice? After all, some celebrations take place during autumn, right?
If you got some friends that love autumn, or you want to make somebody cheered up, just send them happy autumn wishes along with some little gifts. Such wishes could be the funny autumn quotes, some inspirational ones, or just the cliché quotes that you can see almost everywhere. Well, it is the intention that matters.
Happy Autumn Wishes and Messages
Along with a gift, there comes a letter. It was indeed a romantic way to show your affection for someone. However, as time advances, it seems like people do not like to involve a long, heartwarming letter along with a gift. Instead, they come along with an idea of giving some autumn quotes.
Well, despite being shorter than letters, it works wonder to boost the recipient's psyche too. A good way to make your crush acknowledge and start to give you his/her attention, now make easier. Wondering what to write for someone in this autumn? Listed below are some autumn words that you can use to wish someone a happy autumn.
The cliché autumn wishes, but still works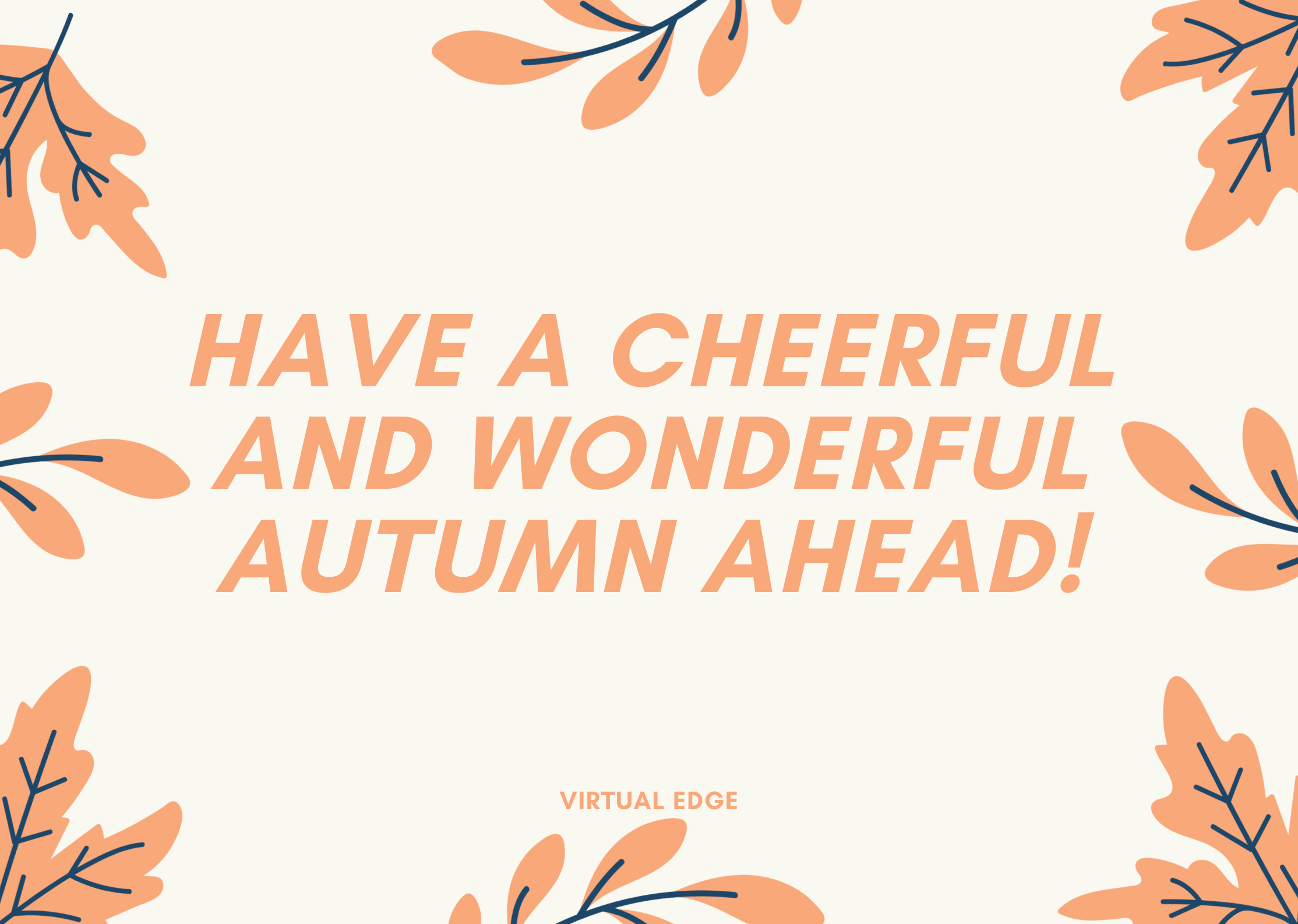 "Have a cheerful and wonderful autumn ahead!"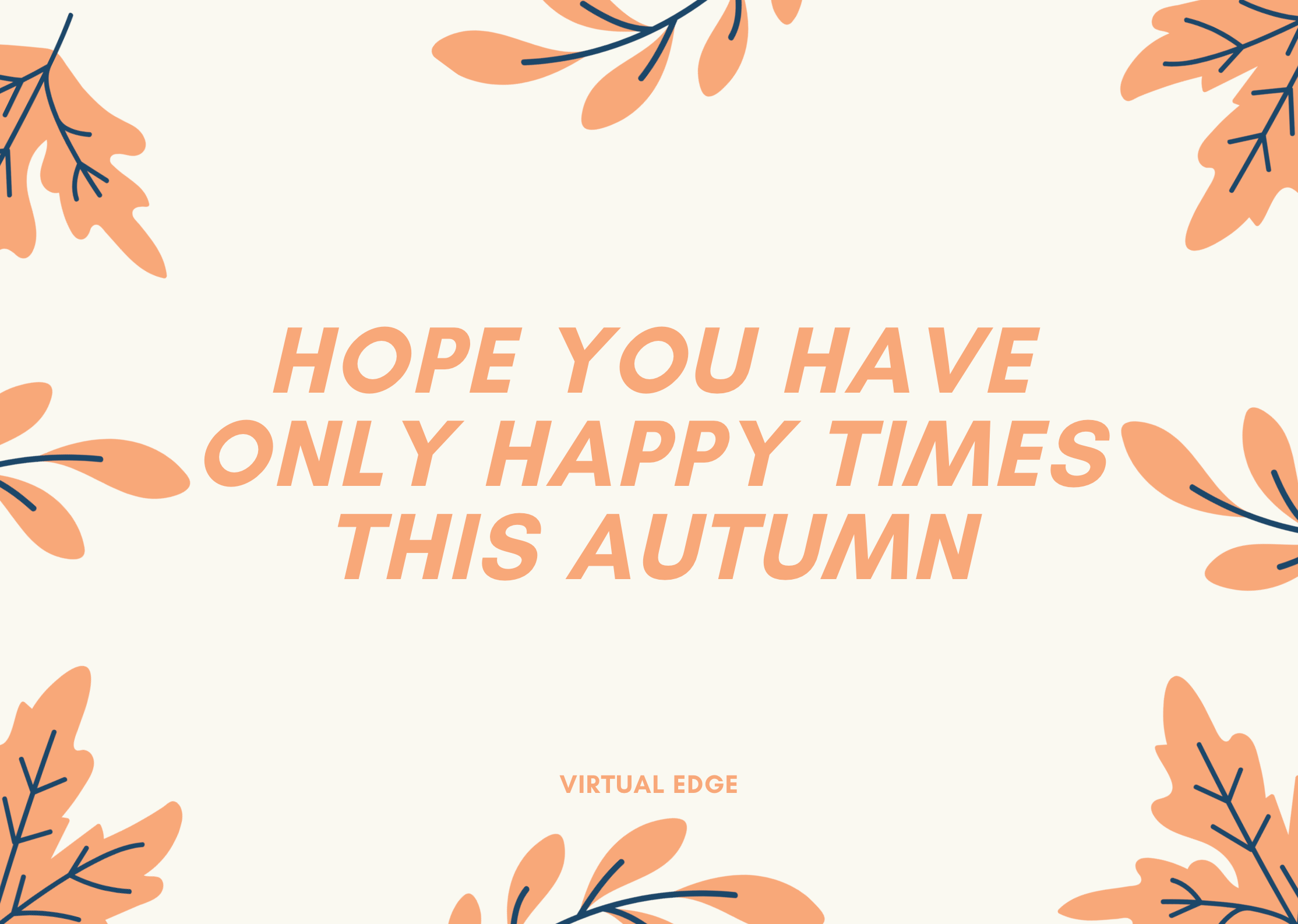 "Hope you have only happy times this autumn."

"Happy first day of autumn!"

"May the joy of autumn come and stay in you!"

"The nature is smiling for the last time before the cold winter. May you enjoy autumn to the fullest."

"No fallen leaf is dead as it dances beautifully on a windy day. May you find courage in Autumn."

"Hope this season brings you the best days only."
A bit poetic, perfect for your friends who love to play with dictions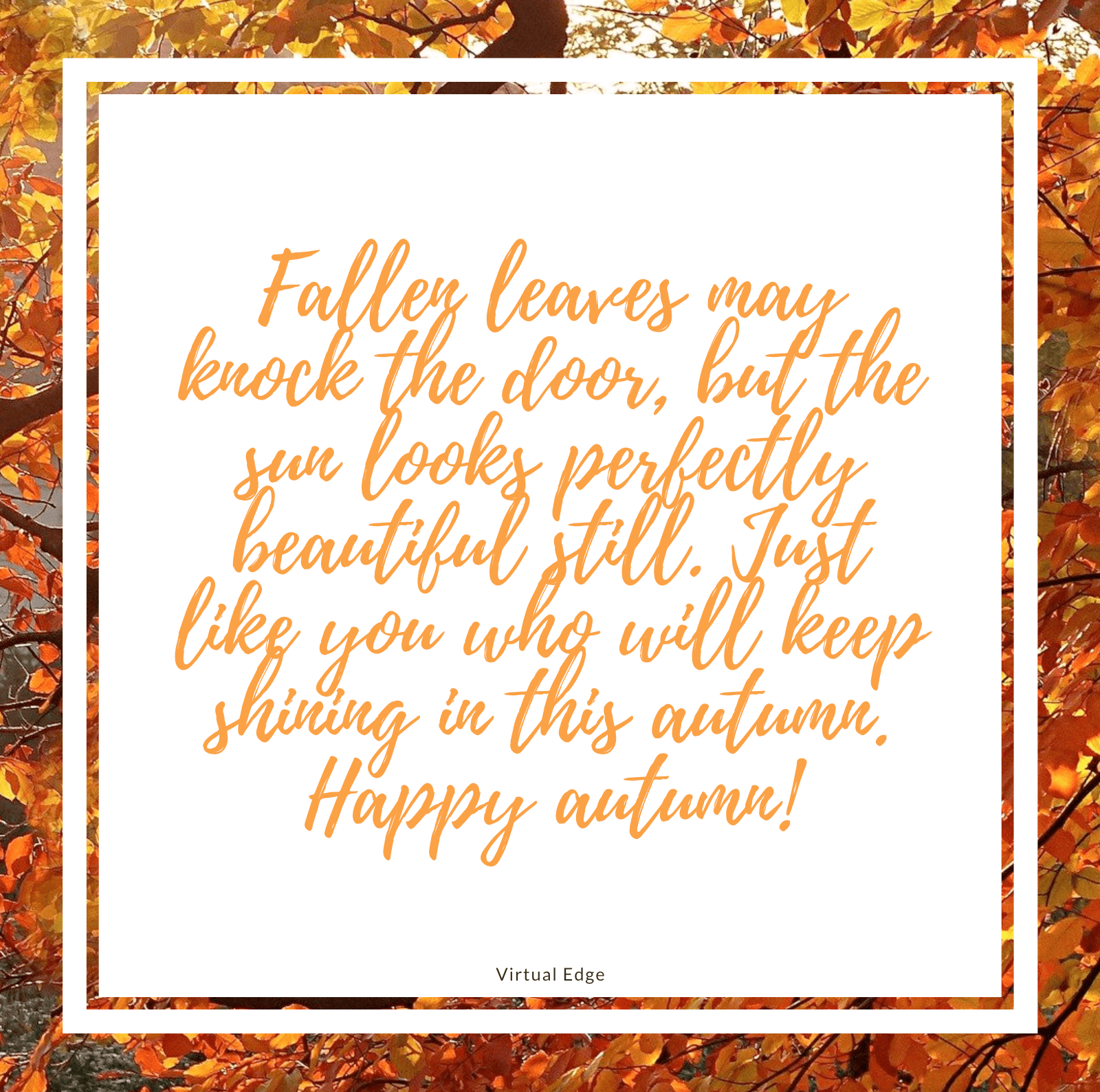 "Fallen leaves may knock the door, but the sun looks perfectly beautiful still. Just like you who will keep shining in this autumn. Happy autumn!"

"You won't be able to enjoy spring if there is no autumn. I will always be there for you like red and yellow, embracing you everywhere when autumn comes."

"May the early rays of Sun fill your heart with joy and remind you of the rest that is needed. Happy Autumn!"

"The joy of summer should not stop just because the first falling leaf reaches the earth. Enjoy your autumn."

"No season is as graceful as autumn. May your life full of warmth in this season."
Autumn inspirational quotes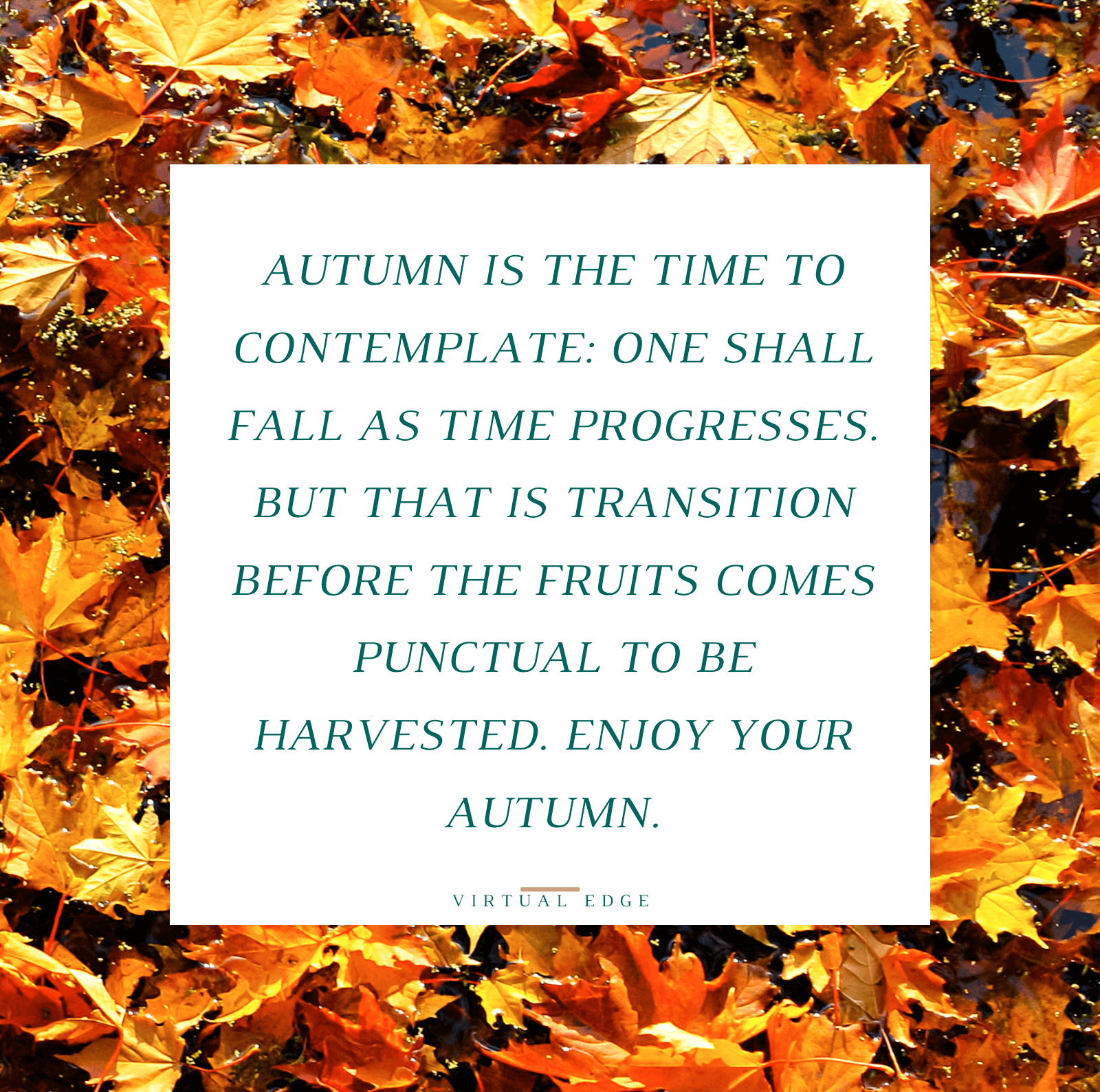 "Autumn is the time to contemplate: one shall fall as time progresses. But that is transition before the fruits comes punctual to be harvested. Enjoy your autumn."

"Leaves may leave, but the warmth of sunshine will not. You may fall in your progress, but you should prevail. You will have your spring soon."

"Do not give up, nature shall try again next year and so should you. Happy autumn."

"The fallen leaves will remind you of your hard work gone in vain. But don't dishearten as the spring will come soon."

"Autumn is not the right time to fall. Clench your wrist, and achieve your dream with the spirit of reddening leaves. Happy autumn!"
Gifting Your Friends with Some Happy Autumn Things
Given that you want to give the loved ones some gifts, could you mention some autumn things? Giving your circle or family the autumn-related things will boost their morale in facing fall. As a result, a happy autumn isn't something impossible to achieve.
Autumn season is related somehow to the transition from summer to winter. Since the weather start to be a bit chilly, some autumn stuffs that you can get as a gift should help the recipient to enjoy the autumn.
Take a look at these stuffs mentioned below:
Sweater
Autumn is undeniably close with knit sweaters. Whether you purchase it somewhere, or it is made by yourself, sweater is a smart choice to give to your loved ones. Why not include some autumn quotes? Who knows that will make their day merrier as well?
Socks
This may be cliché enough, but a new pair of socks will never be wrong as an autumn gift. To shush away the dispiriting sense, bring your friend socks in such 'alarming' colors: red, orange, yellow, or maybe as colorful as rainbow. Combine them all, and kick the gloom away!
Pie
Chilling weather usually comes with hungry tummy. It's not summer that you can bring ice cream, instead, pick a warm pie as your autumn gift. You can also involve pumpkin in your pie. That will be the best gift for a hungry tummy in autumn day.
Blanket scarf
It can work both way – blanket and scarf! Who will resist it for a happy autumn? It is as warming as blanket, but as sophisticated as scarves. Nothing is better than this to gift your fashionista friend.
Pumpkin-pumpkin everywhere
Autumn is the season of Halloween, so why not preparing a gift that has this orange fellow in it? There are so many gifts you can pick from, ranging from mugs, tea pot, and even bags. Don't forget to involve the autumn words there, and your gift will be a blast.
Tips for Preparing Your Happy Autumn Gift and Quotes
Who does not love gifts? Everyone loves them, and if the packaging is interesting enough to look, it will make the receiver overjoy with it.
Fall Accessories
Well-chosen accessories will instantly upgrade any look. Autumn trends include warm, natural colors, shades of brown, soft suede. An accessory – whether it be a beautiful umbrella, matching hat and gloves, a watch, a suede brown belt, or a high-quality leather money clip wallet – allows to enhance the ensemble and create a strong statement.
Whether you are buying a gift set, or just one item to complement other accessories (for example a belt complementing dress shoes) keep in mind that the metals and the shades should match.
That does not mean you should neglect the 'content' inside and putting kind of 'troll' inside – at least make your gift presentable. Hence, wrapping it up decently is the top trick. Do your best in making the gift look agreeable.
Next, add some cards to show your messages. Adding the aforementioned happy autumn wishes can also be done. Some autumn quotes inspirational related to the season should work as well. You may refer to the quotes stated in the earlier subheading as well. Not to forget, you should pick a nice card with some autumn decorations in it. By doing these, your gift will successfully be that unforgettable autumn gift!