2020 was a big year for virtual events. Social distancing measures brought on by COVID-19 have propelled them to the forefront of the events world, with businesses worldwide taking everything – from showcases to conferences – online. And they're here to stay, too, with a recent poll of virtual event organizers showing:
81% reached a wider audience
93% will invest in virtual events moving forward
However, in that same poll,
53% found the logistics difficult and believe they require a different set of skills
74% took >1 month to configure their virtual event platform
A virtual event will enable you to reach a global audience and deliver value to your audience while establishing yourself as a thought leader within your space – but it doesn't have to be difficult. If you're thinking of building a virtual event but are feeling intimidated, you've come to the right place! As a community of over 1,300 creators, HeySummit has seen first-hand the incredible impact virtual events can have on your community, your brand and your revenue.
Read on to discover how you can go from Zero to Launch in just 7 steps.
Choose a plan
HeySummit caters to events of all sizes – so we've got subscription plans to cover different needs. All 4 of our plans, Starter, Growth, Success and Agency, will give you access to:
Landing Page Builder
Customizable Emails
Webinar Integrations
Accepting Ticket Payments
If you're worried about finding the right plan – don't fret. All our plans come with a 14 day free trial and can be cancelled at any time, giving you that flexibility to dream big and explore as many of our features as you'd like!
Settle on an event theme and purpose
The first question to ask yourself is: why are you creating a virtual event? Whether it's to generate new leads, raise your profile or make money, it's important to know what you're hoping to get out of your event. Once you've come up with your end goal, it's time to map out how to get there. Think about who your event is for, and the type of content they'd most like to see. A good place to start is by putting yourself in their shoes and asking yourself:
Am I trying to learn something?
Am I looking for a solution to a problem I have?
Would I benefit from being able to speak directly to the experts?
Am I attending the event to network with my peers?
Reach out to speakers
It's time to start looking for speakers! Our advice? Come up with a list of topics that fit your theme first, then look for leaders and experts on those topics. You can use tools such as HeySummit's Speaker Directory, or social media sites like LinkedIn and Twitter. You ideally want speakers that your audience is familiar with, sharing expertise on things that fulfill your event's purpose.
When it comes to reaching out to speakers, our motto is: start with the 'why', provide a clear ask, and make things easy for them. Essentially, you should be confident of your event when approaching potential speakers – convincing them of its value is a whole lot easier if you believe in it 100%. Make it clear that you've done your research, and aren't just following a 'cold call' approach – tell them exactly why you think they'd be a great fit for your event!
Create landing pages
You've spent so much time building your brand, and naturally, you want to showcase it. HeySummit was built for people of all tech abilities – whether you're just starting out or are an experienced hand, we'll empower you to make your event vision a reality, without any coding skills or a huge team. Simply enter your event details, and HeySummit will auto-generate a beautiful event site for you. You can customize your event site as much as you like by adding, deleting, and rearranging any auto-generated elements, and add images, videos and text so you can create a website that's uniquely yours.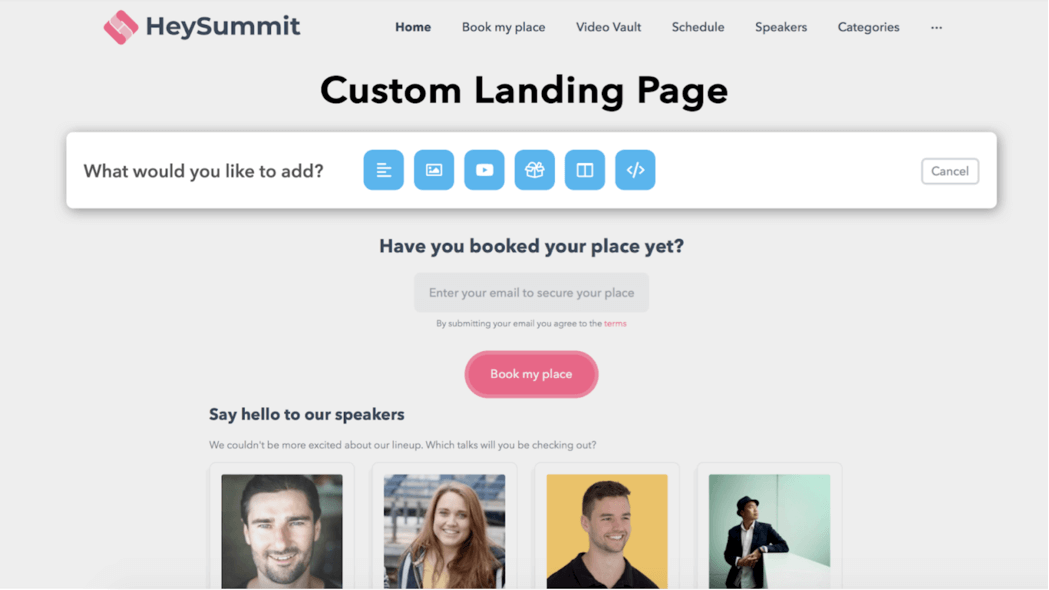 Configure ticket tiers
It's important that you think about your tickets when creating your virtual event. Will you have a free event, a fully paid one or a mixture of both tiers? You can even impose limits on many aspects of your ticketing plan – for example, do you only want to offer free tickets for a limited time period, before making them paid tickets? This is easily configured via your Event Organizer dashboard.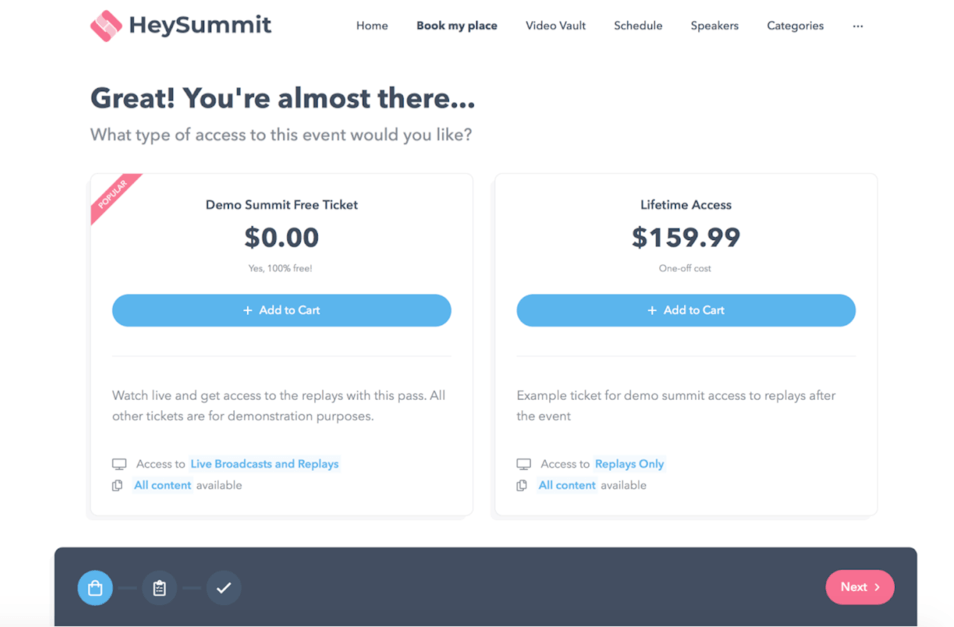 Set up sessions
There are two types of sessions you can add to your virtual event: pre-recorded and live. You can add pre-recorded sessions to HeySummit long before your session is scheduled to be broadcast to your attendees, while live sessions will be streamed as they happen. Pre-recorded sessions involve prep work. The flipside is that, once you've recorded all your talks and scheduled them to go live at different points, you won't have to worry about technical difficulties, poor connections, or speakers dropping out at the last minute However, if you're keen to make your event more engaging and networking-focused, a live format might be the better option.
Ultimately, there are pros and cons to both, so go with whichever works best for your event's purpose. Here are some initial questions to help you make your decision:
What would my attendees prefer? The ability to engage in real-time with my speaker, or to simply absorb the content delivered?
Do I want to do a quality check of my speaker's session – in terms of both content and audio/ visual quality?
Does my speaker have time to record a session beforehand? Is my speaker able to attend the live session – for example, am I limiting my speaker pool if all of them have to be in my timezone?
Do I prefer to have my speaker answer attendees' questions whilst they present?
It doesn't have to be one over the other, either; you can opt for a hybrid model and have the first session pre-recorded, followed by a live Q&A with the speaker.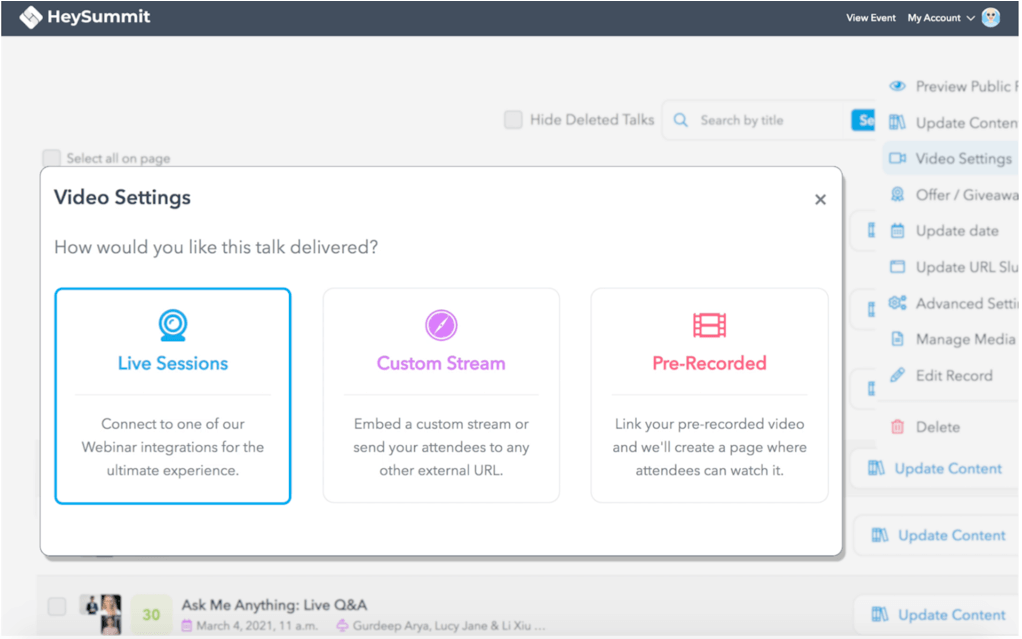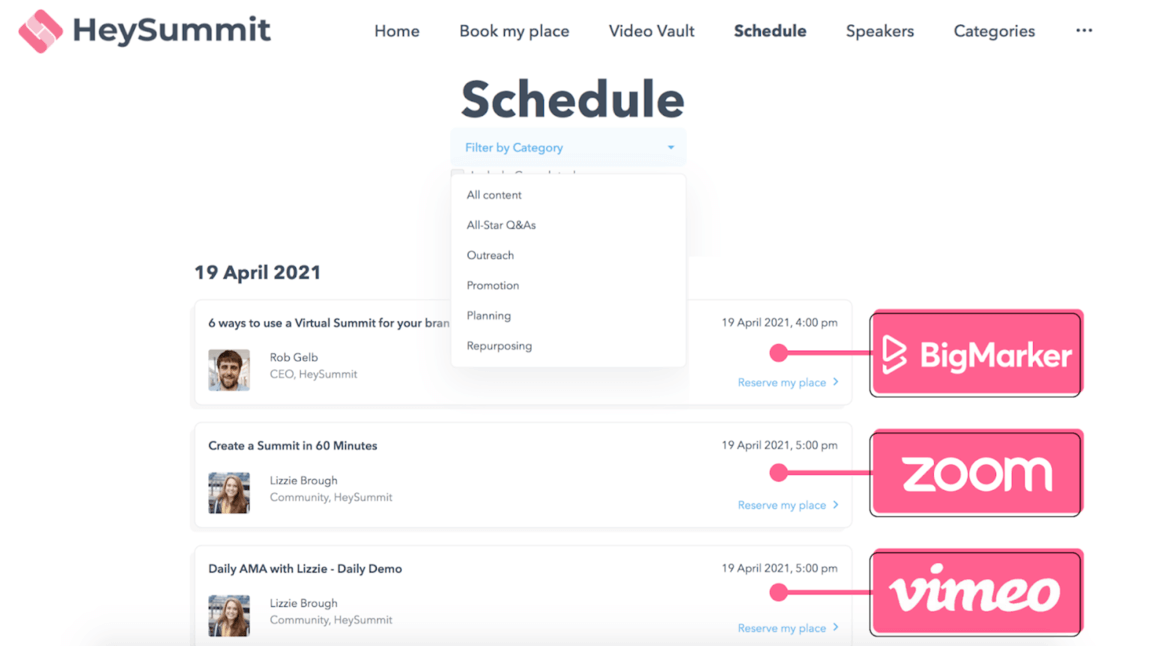 Advertise
Now that you've got your virtual event all set up, it's time to show it off. Marketing is made easy with HeySummit – our platform comes with a host of promotional assets you can download for use on Facebook and Twitter. Leverage your speakers' networks too, by providing them with copy to share with their audience.
Ultimately, nothing builds event momentum like an enthusiastic event organizer! In the lead up to your event, be active on your social media pages and groups. You could do a countdown to your big day with posts such as speaker profiles and contests related to your event theme. Not only is it the best way to create excitement among your attendees, but it's also an excellent way for you to reach out to new audiences who come across your posts online.
There you have it – 7 simple steps to get you from Zero to Launch in no time. Now sit back, watch the registrations roll in and enjoy your event! For more virtual event inspiration and how-tos, head to the HeySummit Blog.
Ready to create something amazing? Start your 14-day free trial today.